African Aura Mining
www.african-aura.com/s/Home.asp
Profil
African Aura Mining Inc wurde aus der Fusion des "Mano River Resources" (dessen Aktionäre entstanden mit 75% der Summe) und des Africa Aura Resources (25%) gegründet. Das fusionierte Unternehmen, dass an den TSX - V und London's AIM notiert ist, hat einer beeindruckende afrikanische Exploration - und - entwicklungsstammbaum. African Aura konzentriert sich auf die Entwicklung der Weltklassen Gold-und-Eisenlagerstätten in subsaharischem Afrika. Die Liegenschaften des Unternehmens umfassen die "New Liberty" Goldlagerstätte und das Putu Eisenerzprojekt, beide in Liberia, und die "Nkout" Goldlagerstätte und die "Batouri" Goldprojekt in Kamerun. Das Unternehmen hat auch eine 59% ige Beteiligung an Diamantenproduzent Stellar Diamonds Ltd, dass kürzlich mit West African Diamonds fusionert hat.
Aktienkurs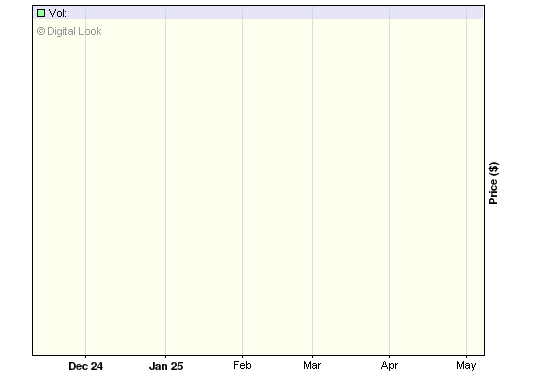 gründliche Analyse
Aktuelle Nachrichten von African Aura Mining
Verbundene Recherche
Keine Unterlagen verfügbar.
Unternehmensstrategie und – daten:
Die Strategie der Firma ist ein "First Mover" zu sein, innerhalb der viel versprechenden geologischen Provinze in dem aufkommenden subsaharischen Afrika. Die Firma will die nächste Generation der Gold und Eisenerzminen ausnützen.
Das Unternehmen ist ein Pionier, weil es die erhebliche Erfahrung in der Arbeit in Afrika hat und die Fähigkeit der nicht-geologischen Risiken, die mit Investitionen in Schwellenländern verbunden ist, zu idenfizieren und bewerten. Die Firma verwendet Satellit Technologie um die hochsten Prioritätsgebiete zu untersuchen. Diese Strategie hilft uns die Ausstrich- Lagerstätten an der Oberflache zu entdecken. Historisch, sind diese Lagerstätten am schnellsten entdeckt, für die niedrigsten Kosten für Exploration und sind die ersten zu Minen geworden.
Zusätzlich zu unseren New Liberty Gold und Putu Eisenerz Projekten, hat African Aura ein bedeutendes Portfolio an Projekten in Liberia und Kamerun mit mehr als 20 Lagerstätten, die bisher entdeckt wurden.
Diese Entdeckungen schaffen eine Pipeline von Chancen für das Unternehmen, dass sich in unterschiedlichen Stadien der Exploration - von Aufklärungs-Probenahme bis hin zur Ressourcen-Definition Bohrungen.



Aktuelle Tätigkeiten:
EISEN PROJEKTE

PUTU, LIBERIA

Überblick

Lizenz: 425km2
Ziel: Haematite/Magnetite Lagerstätte mit potenziellem Steik von 12km.
Ressource: NI 43-101 abgeleitetet Ressource-schätzung von 1,07% Fe [email protected] von 2,6 km des Streiks.
Lage: Süd-Ost-Liberia 100km für Atlantikküste.
Status: 4.000m Bohrprogramm fertig.
Aktuelle Programm: 27.000m Bohrprogramm und Luftstudie.
Besitz: 38,5% Mano River Iron Ore Holdings, 61,5% Severstal-Gruppe
Momentanzustand

In Juli 2009, wurde SRK Consulting (UK) Ltd angestellt, um eine National Instrument 43-101 (NI43-101) konforme Unabhängige Ressourcenschätzung für das Putu Eisenerzprojekt auf der Basis vorher bekannt gegebenen Bohrergebnissen zu produzieren.

Die Schätzung für die 2,6 km-Abschnitt des 12km Grat, dass bisher getestet wurde, ergab eine erste abgeleitete Mineralressource von 1.077 Mio. Tonnen mit einem Gehalt von 37,6% insgesamt "Banded Iron Formation (BIF)" Mineralisierung.

Ergebnisse von dem 4.000m Bohrprogramm umfasst:

* 63.54% Fe (Haematite) über 63.0m
* 54.21% Fe (Haematite) über 54.6m
* 63.60% Fe (Haematite) über 49.5m
* 39.04% Fe (Fresh Magnetite) über 367.4m

Die Daten wurde auf 5 Meter zusammengesetzt und in den statistischen und geogeostatistischen Studien verwendet (Variography).
Für weitere Informationen über das Projekt, bitte Klicken Sie (Hier)

Nkout, Kamerun

Überblick

*Eigentum: 100%
*Größe: 1.995 km2
*Ziel: Hauptgeophysikalischen Anomalie> 12km Länge
*Status: Grab Stichprobe mit sehr ermutigend Gehalten von bis zu 65% Fe
*Aktuelles Programm: Vorbereitung für Erkundungsbohrung in H2, 2009

Introduktion

Das Nkout Eisen potenzielle Lagerstätte befindet sich in der Djoum Lizenz im südlichen Kamerun. Das Projekt wurde von der Interpretation von Luft-magnetischen und "remote sensing" Daten in 2006 identifiziert, während einer Golduntersuchung in dem 150km lange, Sangemalina-Djoum archaischen Grünsteingürtel, dass ursprünglich von der BRGM identifiziert wurde.
Fur weitere Informationen über das Projekt, bitte Klicken Sie (Hier)
GOLD PROJEKTE

NEW LIBERTY, LIBERIA

Überblick

* Besitz: 100%
*Grösse: 1.000km2
*Lage: Nordwest Liberia
*Ressource: 1,4M oz (NI 43-101) 13.533 MT M&I at 3,18g/t Au
*Geologie: "Near vertical sheared ultramafics"
*Status: BFS geplannt für H2 2010

Die New Liberty Lagerstätte liegt auf einer Ost-Süd-östlich verlaufenden, stark geschert und mylonitised Schiefer-Gürtel, in dem die Zone der pyritisation, Adern und Änderung erreicht eine bestätigte Streichenlänge von mindestens zwei Kilometern, über eine Breite von bis zu 100 Meter.
Eine umfangreiche Gebiet des intensiven Schwemmgold-Bergbaus, bekannt als Gold Camp, wurde seit vielen Jahren am östlichen Ende der Lagerstätte gearbeitet. Die Entdeckung von primären Lagerstätten "up-stream" führte zu der Entwicklung der beiden wichtigsten "hard rock" handwerklichen Bergbau-Lagen ungefähr 400m voneinander entfernt - Larjor und Kinjor (ŒKing George ").
Die Host-Struktur kann auf Satellitenbildern und geophysikalische Airborne-Karten für mehrere Kilometer über die derzeitigen Abläufe zurückgeführt werden.


FÜR WEITERE INFORMATIONEN ÜBER DIESES PROJEKT, BITTE KLICKEN SIE HIER.


BATOURI, CAMEROON

Explorations-Zusammenfassung

Exploration hat in 2006 angefangen mit einem Entnahmen von Bodenproben in der Mitte der Lizenz über die Kambele potenzielle Lagerstätte. Probenergebnisse definieren eine 3,5 km lange Zone mit> 100 ppb Au, variierte zwischen 100 - 1.000 m in der Breite, mit umfangreichen co-incident hard rock artisanal Goldgrubenbau (etwa 200 Gruben).
Eine Entnahme von Bodenproben Programm 7 km südwestlich von Kambele auf der Mongonam - Dimako Trend - hat bestätigt eine 3.5km lange Zone mit
co-incident hard rock artisanal Goldgrubenbau. Pit Probenahme von acht handwerklichen Arbeiten, die an Orten zu verlängern bis in eine Tiefe von 27m, hat eine maximale Qualitäten von 65g / t Au über 5 vertikal, und 24g / t Au über 4 Meter.
Weitere Proben von 122 Gruben in den Kambele - Dem Trend und 50 Gruben in den Mongonam - Dimako Trend hat festgestellt, dass vor allem Gold innerhalb von Quarzadern ist, mit niedrigeren Gehaltenn im verändertem Nebengestein.
FÜR WEITERE INFORMATIONEN AUF DIESEM PROJEKT, BITTE KLICKEN SIE HIER.
GOLD EXPLORATION

Liberia,Weaju

Die Weaju potenzielle Lagerstätte, die ungefähr 30km östlich nordöstlich von New Liberty auf dem gleichen Scher-System liegt, wurde der Fokus von zeitweise Bergbau -Tätigkeiten in den letzten 50 bis 60 Jahren.
Die Mineralisierung ist in Scherzonen konzentriert, einer Kontaktzone entlang zwischen Granit und Schiefer-Gürtel Lithologie.
Eine geochemische und geologische Kartierung zeigte eine Streichlänge von 1,5 km in einem ONO Trend mit weiteren Potenzial. Bis jetzt, wurde 400m von Bohrungen abgeschlossen - insgesamt acht Diamantkernbohrlöcher haben eine hochwertige Goldmineralisierung bei 60 ° bis 70 ° im Norden bestätigt.
Diese Mineralisierung hat eine Gesamtlänge von ungefähr 140m. Gold erfolgt, als freie Gold mit bloßem Auge. Die Art der Goldmineralisierung ist sehr ähnlich wie an der New Liberty.
Liberia,Gondoja

Das Gondoja Hills Gebiet, 10km nordöstlich von Weaju, ist historisch einer des produktivsten Goldgebietens im westlichen Liberia. Im Nordosten des Gebiets, 2,5 km vom Dorf Gondoja, Sam Davis Creek "placer workings" zielen Fragments von grossen Quarzadern, die ebenfalls Grundmetallsulfiden enthalten. USGS Geologen in den Jahren 1949-1950, berichtete, dass die Adern zutage über den Bach trat und den oberflächlichen Ablagerungen um die Aufschluss worden war.

Die Gold und Sulfid-Mineralisierung wird in einem starken Schub-Struktur etwa 50m breit beherbergt. Die Exposition in der größten der "artisanal" Baugruben ergab einen Wert von [email protected] g / t. Bodengeochemie hat eine gleichzeitige Anomalie sich über eine Streichenlänge von 500 Metern dargestellt.

Cameroon, Ntem

Die Ntem Lizenz befindet sich in südwestlichen Cameroon. Die Lizenz umfasst eine Fläche von 987km² mit hügligen Regenwald-Terran mit einer durchschnittlichen Höhe von 200 m. Das Klima ist mit einer tropischen Regenzeit von August bis Oktober. Der Zugang erfolgt über asphaltierte Straßen und Laterit.
Das Bureau de Recherches Géologiques et Minières (BRGM) hat das Gebiet katiert und in den 1990er Jahren wurde ein Lufterkundung auf dem südöstlichen Teil der Lizenz gemacht. African Aura begann Exploration im Juni 2007. Die Firma hat sich auf den Gold in der Scherzone und banded iron formation (BIF) innerhalb des "Archaean age Ntem" Komplexes konzentriert. Sechzehn der siebzehn ersten Phase Proben haben Gold von drei Gebieten des Lizenzes abgegegeben. Alluviale "artisanal" Bergau geht weiter in den Dörfer von Abiete und Assoke.

Kamerun, Nord-Projekte

Die Tchollire und Rey Bouba Lizenzen befinden sich in den nördlichen Teil von Kamerun. Die Lizenzen umfassen eine Kombination von Savanne im Süden, und Sahel Vegetation im Norden. Die Zufahrt ist gut über die wichtigsten Ngaoundere - Garoua asphaltierte Straße, die zwischen den beiden Lizenzen, und ein Netz von Straßen-Laterit mit einem regionalen Flughafen Garoua lief.
Das BRGM hat das Gebiet in den 1990er Jahren und hat einige Schwemmgold Anomolien erfasst. African Aura Teams haben 9 potenziellen Gebieten identifiziert - einschliesslich drei Haupt Goldlagerstätten auf Millionaire, Gentil und Kalardje auf der Rey Bouba Lizenz und Sakdje auf der Tchollire Lizenz durch die Kartierung, Drainage, Die Erde, und Felsenproben.
Management
Directors
David Netherway
Position: Chairman and director (Independent)
Mr. Netherway is a mining engineer with over 30 years of experience in the mining industry. He is currently the Chief Executive Officer of Shield Mining Limited (SHX-ASX), an Australian listed company exploring for gold and base metals in Mauritania. From April 2002 until the completion of its takeover by Eldorado Gold Corporation in 2005, Mr. Netherway served as the President and Chief Executive Officer of Afcan Mining Corporation, a company previously listed in Toronto and with a focus on China's gold mining. Mr. Netherway is a mine developer and operator who was involved in the construction and development of the Iduapriem, Siguiri, Kiniero and Samira Hill gold mines in West Africa and has mining experience which includes Australia, Canada, India, Nepal, Oman and Malaysia. Prior to joining Afcan, Mr. Netherway held senior management positions in a number of mining companies, including Golden Shamrock Mines, Ashanti Goldfields and Semafo Inc. Mr. Netherway has received a B.E. in Mining Engineering from the University of Melbourne in 1975 and a Certified Diploma in Accounting and Finance from the Chartered Association of Certified Accountants in the United Kingdom in 1985.

Mr. Netherway is a Non-Executive Director of GMA Resources plc (GMA-AIM)(from December 1, 2005), KazakhGold Group Limited (KZG-LSE)(from September 1, 2005) and Altus Resource Capital Ltd (ARCL-AIM)(from April 1, 2009).
Luis Guilherme Cabrita da Silva
Position: President & CEO
Luis took over the role of President & Chief Executive in October 2007 having joined Mano River in February of the same year as Chief Financial Officer. He gained his extensive international experience with the multinationals Lafarge S.A. and Blue Circle Industries Plc as well as Stevin Rock, formerly of the Dragomar Group. His career has taken him across the world in an operational, technical and corporate capacity. Most recently as a Director of Group Audit, Luis was heading Lafarge's Asia Pacific internal audit department based in Malaysia having previously been posted to Paris, France, with the same company. Luis is a graduate Mining Engineer from Camborne School of Mines and read for his MBA at the Cranfield School of Management. He is currently a Non-Executive Director of Stellar Diamonds Ltd.
Guy Pas
Position: Independent Director
Guy Pas is a Geneva based financier who has been involved with numerous successful resource ventures, through his investment vehicles Eastbound Resources and AddVenture Capital Partners. Between 1973-1983 he was a Vice President of Chase Manhattan Bank in structured and commodity finance. In 1987 he co-founded The Addax & Oryx Group Ltd., an integrated African oil group. In 1989 he co-founded and was the chairman of Samax Resources Ltd, which was focused on gold in Tanzania and was acquired on the TSX by Anglogold Ashanti for $189m in 1998. In 1995 he founded Mano River Resources Inc a TSX-V and AIM listed gold, diamond and iron ore company in west Africa. In 2004 he co-founded GAIA Resources Fund Ltd, focused on early stage private and public resource companies as well as co-founding Afren plc, a West African oil & gas company listed on AIM. Guy has been involved in establishing a number of FSU focussed ventures, most recently Ovoca Gold Plc and Siberian Diamonds.
David B. Evans
Position: Independent Director
David Barry Evans joined the Company on 1st October 2007, as Executive Chairman. David brings with him over 30 years of experience across the natural resources sector, with particular expertise in the development of precious and base metal projects for both large mining houses and emerging producers. David is currently a Director for AIM-listed Tianshan Goldfields Ltd., and was previously a Director of Kroondal Platinum Ltd. and Aquarius Platinum Ltd., where he played an integral part in their growth, financing and successful development. David is also a Director of Orlando Investments Plc. Within the last five years, David has held directorships or partnerships at Exterra Consulting cc, Tarapaca Resources Ltd. (Bermuda).
Steven Poulton, BSc (Hons.) MSc MCSM
Position: Independent Director
Steven Poulton holds an honours degree in geology from Southampton University and a masters degree in mining geology from the Camborne School of Mines. He is the Chief Executive and co-founder of ALTUS Strategies Ltd. Steven previously worked for Mano River Resources between 1998 and 2005. In 2002 he co-founded AIM listed Ariana Resources [AIM:AAU] and was its Chief Executive between 2004 and 2007. In 2004 he was the founder of African Aura Resources which listed on the TSX-V and through its merger with Mano River created African Aura Mining. He is a director of the African AUra's subsidiary Stellar Diamonds Ltd. Steven has a track record in the exploration sector at identifying opportunities, negotiating agreements, raising venture finance and building talented management teams.
Boris Granovsky
Position: Independent Director
Nominated Representative of Severstal Resources (Head of Business Development for Severstal Resources) and former management consultant with KPMG & A.T. Kearnay
Management
Luis Guilherme Cabrita da Silva
Position: President & CEO
Luis, took over the role of President & Chief Executive in October 2007 having joined Mano River in February of the same year as Chief Financial Officer. He gained his extensive international experience with the multinationals Lafarge S.A. and Blue Circle Industries Plc as well as Stevin Rock, formerly of the Dragomar Group. His career has taken him across the world in an operational, technical and corporate capacity. Most recently as a Director of Group Audit, Luis was heading Lafarge's Asia Pacific internal audit department based in Malaysia having previously been posted to Paris, France, with the same company. Luis is a graduate Mining Engineer from Camborne School of Mines and read for his MBA at the Cranfield School of Management. He is currently a Non-Executive Director of Stellar Diamonds Ltd.
Karl Smithson
Position: CEO Stellar Diamonds Ltd.
Karl was appointed as Stellar's Chief Executive Officer with effect from 1 January 2007, having been Chief Operating Officer for diamonds for MRRI for three years. He is a geology graduate of Kingston University and in 2006 completed his MBA at the Graduate School of Business in Cape Town, South Africa and was awarded with the Old Mutual Gold Medal. Mr. Smithson has 19 years of diamond experience gained with a number of companies in senior management positions, including De Beers (10 years), SouthernEra Diamonds (2 years) and MRRI (3 years). Mr. Smithson also ran his own diamond exploration consultancy for three years. Mr. Smithson's working career has been focussed on diamond exploration in Africa and he has been responsible for a number of new diamond discoveries in Botswana, Zimbabwe, Sierra Leone and Liberia. The discovery in Botswana is due to enter commercial production in the near future as the Lerala Diamond Mine.
Nigel Kieser
Position: CEO Putu Iron Ore
Nigel, has been nominated by Severstal Resources, pursuant to the joint venture agreement, as Chief Executive Officer of Putu Iron Ore Mining Inc., the project entity. Mr Kieser graduated in Mining Geology from the Royal School of Mines where he was subsequently awarded his doctorate. After 5 years working as a metals and mining sector equity analyst for Banque Paribas and then JP Morgan Securities, Mr Kieser joined Rio Tinto where he held business development and exploration management roles for six years. For the preceding two years before this post, Mr Kieser was General Director, Russia for De Beers, based in Moscow. Mr Kieser will formally take up his position in the second quarter of this year.
Bevan John Metcalf
Position: Chief Financial Officer
Bevan, is a Chartered Accountant with 27 years global experience in the pharmaceutical and mining industries. He graduated with a Bachelor of Management Studies degree from Waikato University in New Zealand. Bevan began his career as a Management Accountant with ICI, where he spent two years before emigrating to the United Kingdom. Bevan joined Beecham Pharmaceuticals in the UK as a Regional Accountant, and remained with the company for 11 years, holding a number of senior finance positions. Following the Beecham Pharmaceuticals merger with SmithKline, he was transferred to Belgium where he successfully established the European Head Office. He remained with the merged company for 5 years, first as European Planning Manager and then as European Controller. Bevan returned to the UK in 1995 and was appointed Finance Director for Orion Pharmaceuticals, a mid-size European pharmaceutical company. Bevan then joined African Eagle Resources plc, a mineral exploration company focused on eastern and central Africa, listed on AIM and the Alternative Exchange of the Johannesburg Stock Exchange, where he currently holds the position of Finance Director and Company Secretary. Bevan was granted ACA membership of the Institute of Chartered Accountants of New Zealand in 1986. He is also a director of BM Financial Solutions Ltd and The FD Group Ltd.
Ronnie Addy
Position: Resident Manager
Julius Ronnie Addy joined Mano in May 2000. He obtained a Bachelors degree in Business Administration from the University of Liberia, majoring in Accounting and mentoring in Management. In 2006 he enrolled in graduate school at The Louis Arthur Grimes School of Law, University of Liberia, where he earned an L.L.B. Degree. A professional Accountant of several years, and an Associate Member of The Liberian Institute of Certified Public Accountants, he worked for the Liberia Electricity Corporation for nine year as Internal Auditor. He also served the Red Cross for eight years as Finance Officer. He is an Attorney at-Law and a member of the Montserrado Bar Association.
Dr Richard Latiff
Position: Chief Geologist, Liberia, Sierra Leone and Guinea
Richard graduated with B.SC from Freetown in 1981 and obtained his PhD. from the University of Southampton in 1993. Following a number of years with the Sierra Leone Geological Survey, he was appointed a lecturer in structural geology at Fourah Bay College, University of Sierra Leone.
Richard was principal field investigator in kimberlite indicator mineral sampling programmes in the Central African Republic and Kono which lead to the discovery of several dykes now owned by Stellar diamonds, a subsidiary of Mano River Resources (now African Aura Mining Inc.) in Sierra Leone. He was in the target selection group that found Weaju, Gondoja and New Liberty, African-Aura's premier gold target and, has been involved in the discovery of the Silver Hills prospect and, more recently, the Ndablama find in the Bea MDA, Western Liberia.
2008 has seen Richard involved in planning the drilling, interpretation and classification of the rocks and ore types in the Severstal /African Aura JV Putu iron prospect in south-eastern Liberia.
Mark Biddulph, BSc.Hons, GDE, Pr.Sci.Nat
Position: Chief Geologist, Cameroon
Mark brings many years of operating experience to the company including over 11 years with Anglogold Ashanti where most recently he was the General Manager in Mineral Resources at the Obuasi mine in Ghana. His experience includes many areas of senior level management and brownfields exploration at Obuasi as well as other operations in South Africa.
He holds a BSc Hons in Geology and GIS from Rhodes University and a GDE in Mining Engineering (Mineral Economics) from the University of Witwatersrand in South Africa. Mark is a Professional Natural Scientist under the South African Council for Natural Scientific Professions (SACNASP).
Alexander Fairbairn, MGEOL
Position: Senior Geologist
Alex graduated from the University of Leicester with a Masters degree in Geology in 2005. Before University, he spent two and a half years in the Territorial Army Royal Signals after completing an officer training course at the Royal Military Academy, Sandhurst. Prior to joining African Aura Alex worked as an exploration geologist in Sierra Leone with Axmin Inc. He has broad experience in running field exploration programmes and GIS.
Primus Asua
Position: Accountant, Cameroon
Primus is a graduate of the University of Buea in Cameroon where he obtained a Bachelors degree in Accountancy.

Primus previously worked for the British Council in Cameroon where he served as a Finance Officer for seven years in charge of numerous accounting functions including producing financial and management accounts and conducting regular internal audits and reporting to the UK
Raphaël Bienvenu Namem, BSc. (Hons)
Position: Project Geologist, Cameroon
Raphaël graduated from the University of Yaoundé I in 2003. Before joining the company in April 2007, he worked as Surveyor for Community development NGOs and as Student Geologist for Cameroon Mining Company (Caminco), a Gold exploration Company established in Eastern Cameroon. Raphaël's geology experience includes mapping, planning and running stream sediment and soil sampling programs; pits, trenches & diamond core logging as well as project management in Gold, Iron and Uranium exploration. He is currently following a Master's degree in Structural geology at the University of Yaoundé I
Abu Bakarr Bangura, BSc. (Hons)
Position: Project Geologist, Liberia
Graduate of Fourah Bay College in Sierra Leone. Final year thesis on gold exploration; work as a field geologist including supervision of stream sediment sampling aeromagnetic targets, drilling, logging and bulk sampling
Hauptaktionäre
Kontakt
African Aura Resources (UK) Ltd.

UK Representative Office

32 Bloomsbury Street
London, WC1B 3QJ
United Kingdom

T: +44 (0) 207 299 4212
F: +44 (0) 207 299 4209
Email: [email protected]
Corporate Offices
Registered Office
Suite 3350 Dunsmuir Street
PO Box 49222, Four Bentall Centre
Vancouver, BC
Canada V7X 1L2

Branch Office
32 Bloomsbury Street
London WC1B 3QJ
United Kingdom
T: +44 (0) 207 299 4212
F: +44 (0) 207 299 4209
Exploration Offices
All Liberian subsidiaries
Mano House
18th Street, Sinkor
Monrovia
Liberia
Tel: +231 (6)551 739

All Cameroon subsidiaries
BP 14364
Yaounde
Cameroun
Unternehmensinformationen
Broker & Nominated Advisor
Evolution Securities Ltd
100 Wood Street
London
EC2V 7AN
United Kingdom

Haywood Securities Ltd
800 BCE Place, 29th Floor
181 Bay Street
Toronto, Ontario
Canada M5J 2T3

Thomas Weisel Partners
79 Wellington W
Toronto, ON M5K 1K7
Canada
Auditors
BDO Stoy Hayward
55 Baker Street
London, W1U 7EU
United Kingdom
Legal Counsel
Blake Cassels & Graydon
23 College Hill
London, EC4R 2RP
United Kingdom

Macleod Dixon LLP
Toronto-Dominion Centre
100 Wellington Street West
Ontario ON M5K 1H1

LV Conseil Institutionnels
750, boul. Marcel-Laurin
Bureau 106
Saint-Laurent
Quebec H4M 2M4

Etah-Nan & Co.
B.P. 4736
Douala
Cameroon

Sherman & Sherman, Inc.
17th Street & Chessman Avenue
PO Box 10-3218
1000 Monrovia, 10 Sinkor
Monrovia, Liberia
Independant Consultants
SRK Consulting
Windsor Court
1-3 Windsor Place
Cardiff CF10 3BX
Registrar and Transfer Agent
Computershare Investor Services Inc.
100 University Avenue
Toronto
Ontario, M5J 2YI
Canada
Tel: +1 604 661 0232
Fax: +1 888 453 0330
[email protected]

Computershare Investor Services Inc.
The Pavilions, Bridgwater Road
Bristol, BS99 6ZZ
United Kingdom
Tel: +44 (0) 870 702 0000
Fax: +44 (0) 870 703 6101
Market Makers (AIM)
Evolution
Tel:+44 (0) 20 7488 4040
Fax:+44 (0) 20 7481 3762

Winterflood Securities
Tel: +44 (0) 207 621 0004
Fax: +44 (0) 207 623 9482

Shore Capital
Tel: +44 (0) 207 734 7292
Fax: +44 (0) 207 734 7625

Kbc Peel Hunt
Tel:+44 (0) 20 7418 8900
Fax:+44 (0) 20 7417 4686

Anleger, die in African Aura Mining interessiert sind, haben auch angesehen: