Aviva Corporation Ltd
www.avivacorp.com.au
Profil
Aviva Corporation Ltd (ASX:AVA) ist ein Ressourcen-Entwicklungsunternehmen mit Sitz im westaustralischen Perth, das auf dem Australian Securities Exchange in Sydney und der Börse in Gaborone, Botswana, notiert ist.

Das Unternehmen ist vollfinanziert und entwickelt eine Reihe von Energie- und Metallprojekten in Afrika und Australien.

In Botswana entwickelt Aviva das Mmamantswe Projekt, und hat dort eine Kohlenressource von 1,3 Milliarden Tonnen identifiziert.

In Kenya erkundet das Unternehmen in einem Joint Venture mit Lonmin PLC das 2.800 Quadratkilometer grosse West Kenya Projekt nach Vorkommen von Gold und Basismetallen.

In Australien besitzt Aviva das Coolimba Kohle- und Energieprojekt.
Aktienkurs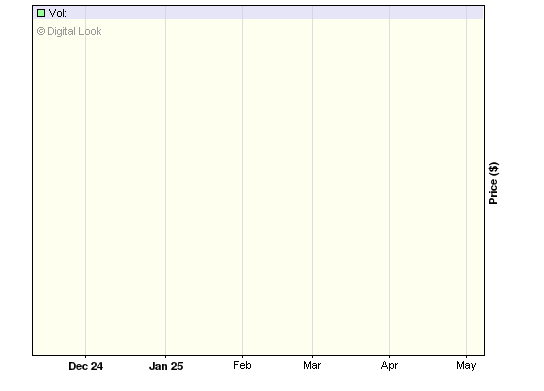 gründliche Analyse
Aktuelle Nachrichten von Aviva Corporation Ltd
Vorstellungen
Keine Unterlagen verfügbar.
Verbundene Recherche
Keine Unterlagen verfügbar.
Aktuelle Tätigkeiten:
WEST KENYA PROJECT
In 2010, Aviva acquired an interest in a West Kenya gold and base metals project, through joint venture with AfriOre International, a wholly owned subsidiary of leading resource developer Lonmin Plc.
The project comprises 2,800km2 of the highly prospective Ndori Greenstone Belt in Kenya, which forms part of the Tanzanian Archaean Craton. Previous exploration has identified significant potential for gold, as well as copper, lead and zinc. The project offers key infrastructure advantages, being well serviced by road, power and telecommunication networks across the entire licence area.
Kenya is the commercial and logistical hub of East Africa. It has the largest economy in the East Africa region and the fourth largest economy in Sub-Saharan Africa.
MMAMANTSWE COAL PROJECT, BOTSWANA
In 2007, Aviva and Mawana Minerals Pty Limited of Botswana entered into a Joint Venture over the Mmamantswe Coal Project in Botswana.
The project is located 70km north of the capital, Gaborone, and is on the South African border.
Aviva has identified a large coal resource of 1.3 billion tonnes, including a probable run of mine reserve of 895mt. Aviva is proposing a 10mtpa coal mine, to support a 1,000MW (2 x 500MW) integrated power station with potential for expansion into export sales. Coal quality, coal preparation, mine scoping, power generation and transmission have all been undertaken.
COOLIMBA COAL AND POWER PROJECT
Aviva has developed the Coolimba Coal and Power project in the Mid West region of Western Australia. The Coolimba Power precinct has been approved to host a 450MW base load and 360MW gas fired power generation facilities.
The Project, based near Eneabba, is in a prime position to support the energy requirements of both the growing Mid West region, and the south west of the State.
Aviva has managed the project from target definition through exploration, feasibility studies and environmental approvals to its current status as a readymade development for power generation. Under current energy policy it is unlikely the project will be developed as an Independent Power Project but could be developed as a captive energy supply for a large resource project. Aviva believes Coolimba Power remains a viable and competitive solution to WA's growing energy demand, particularly in the Mid West region.
Management
Geoffrey Loftus-Hills – Chairman

Dr Loftus-Hills has 37 years' mining industry experience, including 28 years with Western Mining Corporation and Normandy Mining Limited. His roles with Western Mining Corporation included that of General Manager Mineral Exploration (Australasia).

He has previously served as a Director of Aurora Gold Limited and Abelle Limited, Chairman of NGM Resources Limited, and is a Fellow of the Australasian Institute of Mining and Metallurgy.
Lindsay Reed, BE (mining), MBA, MAusIMM, MAICD – Chief Executive Officer

Mr Reed has more than 20 years experience in the resource sector as a mining engineer, resources analyst and business development executive. He worked for RGC Limited for eight years in a range of operational and management roles, before joining Perth stockbroker Porter Western Ltd for four years as a resources analyst. Mr Reed joined Murchison United Limited as a corporate development manager and was instrumental in the acquisition of the Renison Bell tin mine from RGC Limited. Mr Reed is also a director of MM Mining plc, soon to be listed on AIM (UK).
Robert Kirtlan – Executive Director

Mr Kirtlan has 10 years company management experience and spent seven years in Australian and global mining investment banking in Perth, Sydney and New York working for major global investment banks with a specialist role in the mining and natural resources sector.

He has a background in finance and management with small companies. He was a founding shareholder of Cooper Energy Limited, an emerging exploration and production oil and gas company, and is a substantial shareholder and director of Aviva Corporation Limited (3.5 years). Mr Kirtlan is currently a director of NGM Resources Limited (2 years) and has recently resigned from Cooper Energy Limited (4 years) and is a director of MM Mining plc, soon to be listed on AIM (UK).
Hauptaktionäre
Top 20 Shareholders (as at 9 September 2011)
Name
Units
% of Units
SENTIENT EXECUTIVE GP IV LIMITED
17,500,000
10.53
NATIONAL NOMINEES LIMITED
15,614,660
9.40
PENSON AUSTRALIA NOMINEES PTY LTD
5,851,000
3.52
MARFORD GROUP PTY LTD
5,407,918
3.26
JADEKEY NOMINEES PTY LTD
5,400,000
3.25
HSBC CUSTODY NOMINEES (AUSTRALIA) LIMITED
5,250,176
3.16
CITICORP NOMINEES PTY LIMITED
5,201,650
3.13
MEURS HOLDINGS PTY LTD

4,550,000
2.74
HOMELAND ENERGY CORP
4,000,000
2.41
MR ROBERT EDWARD KIRTLAN
2,791,600
1.68
JP MORGAN NOMINEES AUSTRALIA LIMITED
2,006,984
1.21
NORONEKE MASTER FUND LTD
1,861,115
1.12
OUTLAND INVESTMENTS PTY LTD
1,560,000
0.94
BOTSWANA REGISTER CONTROL
1,508,849
0.91
RW ASSOCIATES PTY LTD < R W ASSC SUPER FUND A/C>
1,503,000
0.90
SURFBOARD PTY LTD
1,500,000
0.90
MR JOHN ALLAN ROBERTSON
1,374,500
0.83
SPRINGTIDE CAPITAL PTY LTD
1,164,137
0.70
KLIP PTY LTD
1,150,000
0.69
WASABI ENERGY LIMITED
1,100,000
0.66
Totals: Top 20 holders of ORDINARY FULLY PAID SHARES (TOTAL)
86,295,589
51.94
Total Remaining Holders Balance
79,846,236
48.06
Kontakt
Unit 1, 245 Churchill Avenue
Subiaco, Western Australia 6008
Australia
P.O. Box 2025, Subiaco, Western Australia 6904
Phone: +61 8 9363 7100
Fax: +61 8 9388 2355
Unternehmensinformationen
Stakeholder relations contact:
Warrick Hazeldine – Director, Purple Communications
Phone: +61 (0) 8 9485 1254
Mobile: +61 (0) 417 944 616
[email protected]
Share Registry
Computershare Investor Services Pty Ltd
45 St Georges Terrace
Perth Western Australia 6000
Telephone: 1300 763 482
(+61 3) 9415 4859
Facsimile: (+61 8) 9323 2033
Anleger, die in Aviva Corporation Ltd interessiert sind, haben auch angesehen: