NGM Resources
www.ngmresources.com.au/
Profil
NGM Resources Limited (ASX:NGM) is a diversified mineral exploration company with a focus on uranium and base metals. Headquartered in Perth, the company has agreements covering uranium exploration projects in Niger, West Africa, and metal exploration projects in Madagascar, Southern Africa.
Aktienkurs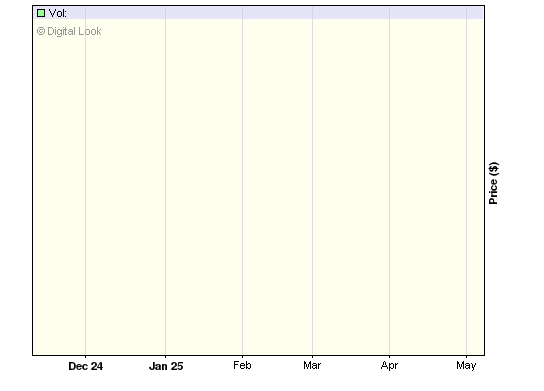 Vorstellungen
Keine Unterlagen verfügbar.
Verbundene Recherche
Keine Unterlagen verfügbar.
Aktuelle Tätigkeiten:
NigerIn Niger, West Africa, NGM Resources wholly-owned subsidiary, Indo Energy Limited, has been granted three uranium exploration tenements in the country's uranium-rich Tim Mersoï Basin. The world-class uranium deposits present in this sedimentary basin have been in production for the past 30 years and have established Niger as the world's fourth largest uranium producer.

Niger's uranium production, however, is expected to double by 2012 following AREVA's mining of the Imarouren deposit, which is claimed to contain in excess of 150,000 tonnes (330mlbs) of uranium and is expected to produce more than 5,000 tonnes per annum (+11mlbs) of uranium at a mined grade of 0.12% (1,200ppm). This will place Niger as the world's second or third largest producer of uranium. NGM's landholdings lie approximately less than 100km south from this deposit and have demonstrated similar uranium-bearing structures.

From May to August 2009, NGM conducted its first exploration programs. The programs included field mapping of the Idekel, Tschirezrine, Wagadi and Takardeit prospect areas, as well as a 1,500m drilling program to test targets identified from previous data produced by Cogema work in the 1960's.

The Company had outstanding success with these initial programs, locating mineralisation on all three tenements. 24 of the 27 holes drilled across the tenement area encountered significant uranium mineralisation (>100ppm eU3O8), with higher-grade zones also encountered in four of the six holes drilled at NGM's Takardeit prospect (>1,000ppm eU3O8).

October 2009 saw the beginning of the second phase of drilling at Takardeit to drill test the exploration target identified by drill holes IND011 to IND014 inclusive in July 2009. Three distinct Takardeit zones, Takardeit, Takardeit North and Takardeit East, were drilled in this program to test their strength, width and depth. Takardeit as an area has significant outcropping mineralisation over an area of approximately 50 square kilometres with a best assay of 17% U3O8. Aerial surveys and field programs were also undertaken to increase the Company's geological knowledge base and to introduce modern tools for detection of new prospects.

The program included approximately 3,800m of drilling with the majority undertaken at Takardeit. The Company has since announced 23Mt at 210ppm for an inferred estimate of 11Mlbs utilising a 120ppm cut off. Of particular significance is the shallow depth of the intersectons in all holes drilled in the Takardeit prospect. Mineralisation is less than 30m from surface. Figure 1 is a cross section of the mineralised zone with the carboniferous target also shown.




The Company is now in receipt of interpreted aerial data and has been working on developing new targets based on exisiting geological models (other deposits) for the region. The Takardeit mineralisation appears to be supergene in nature and it is expected the host or primary source may be the carboniferous sandstone unit located approximately 130-150 metres from surface. The carboniferous material is the host mineralisation for most of the nearby major deposits.
Figure 2: Recent radiometrics over magnetics and alos landsat imagery

The Company expects to recommence drilling in March 2010 and will target the carboniferous and other structures based upon the recently interpreted data.

Cash reserves currently stand at $3m which is sufficient for another two campaigns.
MadagascarNGM has tenements in Madagascar which are prospective for iron ore and mineral sand deposits. A small program on these tenements provided some promising results with up to 46% iron recovered in random itabirite chip samples.

The Company's tenements in Madagascar include:
The Analalava ProjectA review of the Analalava project in the north-east of Madagascar identified an area of dunal and fossil beach sands which were considered to have the potential to host heavy minerals. This was confirmed during field inspections which identified the presence of minerals such as ilmenite and zircon in erosional channels draining the sands.

There appears to be some geological similarity to the Fort Dauphin deposit, located further south, which is being developed by Rio Tinto.

The Bureau du Cadastre Minier de Madagascar has granted the Company's applications for exploration permits covering an area of 62.5km2; securing extentions to the sands beyond NGM's existing tenements.

No work programs are planned at Analalava in the near term.
The Mahanoro ProjectRock chip sampling at NGM's Mahanoro Project, located on Madagascar's east coast, has identified two itabirite iron (Fe) prospects in separate tenement blocks. The limited samples from these two areas indicate occurrences similar in geological type to the Soalala deposit (500mt @ 35% Fe) in western Madagascar.

The Company conducted a field program at the Mahanoro iron ore prospect. 40 samples were collected from across the outcropping structure and subsequently analysed.

The Company is encouraged by the results. The iron is itabirite and the samples have a mean iron content of 42.4%. Impurities are low.

The Company has done some desk top work on logistics, with the following positive observations:

* The prospect is just 15km from the coast, meaning rail transport is not an issue.
* The hinterland has a great potential for hydroelectric power due to its high rainfall and dense river pattern and the prospect is conveniently located next to a major river.
* The nearby town of Mahanoro may have potential for development as a port or as a base for trans-shipping.
* The port of Toamasina lies 200km to the north and is currently being upgraded to accommodate Panamax vessels.

NGM is assessing various options to take this project to its next stage which will require drilling.
Western AustraliaNGM Resources has an application pending for more than 1,100km² of tenements within the North Telfer region in Western Australia, which region is known to host gold mineralisation.
Management
The Board and Management
Geoffrey Loftus-Hills – Non-Executive ChairmanDr Loftus-Hills has 37 years mining industry experience, including 28 years with Western Mining Corporation and Normandy Mining Limited. His roles with Western Mining Corporation included that of General Manager Mineral Exploration (Australasia). He has previously served as a Director of Aurora Gold Limited and Abelle Limited and is a Fellow of the Australasian Institute of Mining and Metallurgy.

Robert Kirtlan – Executive DirectorMr Kirtlan has 20 years company management experience and also spent seven years in Australian and global mining investment banking in Perth, Sydney and New York working for major global investment banks, with a specialist role in the mining and natural resources sector. He has a background in finance and management. Mr Kirtlan has previously served as a Director of Cooper Energy Limited and is currently a Director of Aviva Corporation Limited and MM Mining plc.

Steven Chadwick – Non-Executive DirectorMr Chadwick is a metallurgist with 35 years experience in operations, management and project development of gold and base metals. He has worked for several major companies in senior technical roles and was the Managing Director of two ASX listed gold companies for 10 years. Mr Chadwick also has extensive Australian and international experience with feasibility studies and project development. He is a Director of ASX-listed BC Iron and also the Australian based director for two Canadian companies.
Hauptaktionäre
Top 20 Shareholders
Rank

Name

Units

% of Units

1.

PALADIN ENERGY LIMITED

36,080,000

19.99

2.

NATIONAL NOMINEES LIMITED

8,585,889

4.76

3.

MERRILL LYNCH (AUSTRALIA) NOMINEES PTY LIMITED

8,100,635

4.49

4.

RIDGEFIELD CAPITAL ASSET MANAGEMENT LP

6,899,728

3.82

5.

ROCKFACE CONSULTING GROUP

6,250,000

3.46

6.

HSBC CUSTODY NOMINEES (AUSTRALIA) LIMITED

5,177,558

2.87

7.

CITICORP NOMINEES PTY LIMITED

4,893,856

2.71

8.

UBS NOMINEES PTY LTD

4,254,564

2.36

9.

WESTLANDUTRECHT GLOBAL CUSTODY BV

3,420,000

1.90

10.

MR ROBERT KIRTLAN

3,000,000

1.66

11.

ARREDO PTY LTD

2,597,866

1.44

12.

GLOBAL MINEX VENTURES LIMITED

2,400,000

1.33

13.

GLOBAL MINEX VENTURES LIMITED

2,394,000

1.33

14.

MR ALBAN HORST HASSLINGER

2,140,000

1.19

15.

MR PETER HARRY HATCH

2,002,234

1.11

16.

DR LEON EUGENE PRETORIUS

1,950,000

1.08

17.

NORONEKE MASTER FUND LTD

1,700,000

0.94

18.

CADEX PETROLEUM PTY LIMITED

1,400,000

0.78

19.

MEDICAL CORPORATION AUSTRALASIA LIMITED

1,333,333

0.74

20.

RBC DEXIA INVESTOR SERVICES AUSTRALIA NOMINEES PTY LIMITED

1,329,330

0.74

Top 20 holders of ORDINARY SHARES (GROUPED)

105,908,993


58.70
Kontakt
NGM
NGM Resources LimitedSuite 4, Level 3South Shore Centre
83-85 The Esplanade
South Perth WA 6151

PO Box 859
South Perth WA 6151

Tel: +61 8 9367 6471
Fax: +61 8 9367 2355
Email: [email protected]
Web: ngmresources.com.au
Unternehmensinformationen
Share Registry
Computershare Investor Services Pty Limited
1/1238 Hay St
West Perth WA 6005

Tel: 1300 763 484
+61 3 9415 4860

ASX code: NGM Media and Investor Relations
Warrick Hazeldine and Annette Ellis
Purple Communications
Level 3, 28 Kings Park Road
West Perth WA 6005

Tel: +61 8 6314 6300
Fax: +61 8 6314 6355
Mobile: +61 417 944 616
Email:[email protected]
[email protected]
Web: www.purplecom.com.au
Anleger, die in NGM Resources interessiert sind, haben auch angesehen: