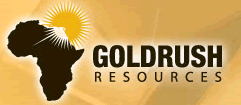 Goldrush Resources
www.goldrushresources.ca
Profil
Goldrush Resources Ltd ist ein börsenotiertes, junges Mineral-Ressourceunternehmen, dass an der TSX-V notiert ist. Es sucht auf Gold im Burkina Faso (Westafrika). Dort, besitzt das Unternehmen 5 vielversprechenden Lizenzen, die 922 km ² umfassen. Die Lizenzen befinden sich alle auf den "Birimian Greenstone Belt". Dieses Gebiet hat eine sehr produktive Geschichte von Goldproduktion.
Aktienkurs
gründliche Analyse
Aktuelle Nachrichten von Goldrush Resources
Vorstellungen
Keine Unterlagen verfügbar.
Verbundene Recherche
Keine Unterlagen verfügbar.
Unternehmensstrategie und – daten:
Highlights About Goldrush Resources

* 40 year old Canadian Mineral Exploration Company
* Ronguen Gold Discovery contains inferred resource of 249,000 ounces of gold with significant exploration potential
* Several artisanal sites that are ready for advanced exploration and drilling have been identified
* Capable management with geological experience


Why Goldrush?

* Initial inferred gold resource estimate of 5.9 million tonnes grading an average of 1.31 gpt for 249,000 ounces for the Ronguen Deposit recently released.
* Highly prospective area — discovery costs of US$6.00 – $8.00/oz
* Strong institutional shareholder base.


TO LISTEN TO LEN BROWNLIE'S INTERVIEW WITH OSIX NEWS PLEASE CLICK HERE
Aktuelle Tätigkeiten:
In late 2008, Goldrush reviewed its land holding of 34 exploration properties and retained five high priority exploration permits:

1 & 2. The Kindo group consists of two permits (Tikare and Kongoussi I) that have a combined surface area of 448 sq km. The Kindo permits are located 95 kilometres by paved highway north of Ouagadougou ("Ouaga" is the capital city of Burkina Faso and is close to the geographic centre of the country). Together, these two permits contain the Ronguen Gold Resource.

3. Salbo (146.2 sq km) is located directly south of the southern border of High River Gold Ltd.'s Bissa project and is approximately 35 kilometres south of the Company's flagship Ronguen gold project. A combination of rock and soil sampling and geological mapping conducted during 2008 has identified three NE-SW mineralized trends on the permit. The main trend extends for at least 2 kilometres and includes the main artisanal site and an associated site to the southwest (Salbo southwest). The second trend is over 500 metres in length and runs parallel to the main trend, some 1.5 kilometres to the northwest. The third trend has been traced for over 100 metres and runs parallel to the northern portion of the main trend, at a distance of approximately 1.5 kilometres to the southeast. Of the 363 rock samples taken on the permit, 20 assays returned greater than 1.2 g/t gold, to a maximum of 30.9 g/t gold. Twelve of the high grade rock samples were collected near the main artisanal site that overlies a soil anomaly. Salbo Rock Sampling Map (127 KB)

4. Ouavousse — The Ouavousse permit (165.91 sq km) is located approximately 80 km south of High River's Taparko gold mine and covers a portion of the regional Markoye fault from which the Taparko host structure is a splay. Resampling of an old trench (OTR1) located near the center of the permit and excavated at the contact between sheared metasediments and a gabbro-diorite intrusive assayed 1.52 g/t gold over 5 metres, confirming a previous operator's assay of 1.77 g/t gold over 4 metres. Additional soil sampling on a 200 x 200 metre grid surrounding the trench led to the discovery of a 218 ppb Au soil anomaly located 1.7 km southwest of the trench along strike with the shear noted in the trench. Extensive rock sampling of the permit revealed that of 784 rock samples, 17 samples contained greater than 1 g/t gold to a maximum of 9.25 g/t gold over a total distance of 1.2 km. With the exception of one sample of quartz float returning 5.29 g/t, the samples were collected near the Poessin artisanal sites, located approximately 7 km northwest of the OTR1 trench. Ouavousse rock sampling map (125 KB) | Tarpako Group Map

5. Bougou I (72.44 sq km) is located approximately 200 kilometres by paved highway northeast of Ouagadougou, and shares a contiguous boundary with High River's Taparko-Bouroum mine. Recent geophysical surveys suggest that an extension of the Zemce gold zone on the Taparko mine property may trend onto Bougou 1.


The Ronguen Gold Discovery:
Goldrush's exciting new flagship gold exploration project

The Ronguen Gold Zone is located on the Kongoussi 1 and Tikare permits which together form the Kindo Group, located only six kilometres northwest of the High River Gold Mines Ltd. (HRG:TSX) ("High River") Bissa Deposit.
Latest Results

In early 2006 rock sampling conducted over a 1 km long east-west trending artisanal mining site on Goldrush's Kongoussi 1 and Tikare permits yielded significant anomalous gold values over the entire area covered by the historic mining activities. Enduring artisanal mining is an excellent indicator of potential economic gold mineralization as crude artisanal mining techniques are usually productive only with grades in excess of 20 g/t gold. This highly mineralized zone was named the Ronguen Gold Discovery after a tiny nearby village. To date 339 rotary air blast, reverse circulation and core drill holes totalling almost 20,000 metres and 23 trenches totaling over 2,000 metres have been completed over a 1.5 km section of the controlling structure which is over 5 km long. Assay results to date confirm the presence of gold mineralisation in economic grades over the entire 1.5 km. Thus far the mineralized zone extends vertically from within a few metres of the surface to 122m, being the maximum depth of drilling to date.

Initial Inferred Mineral Resource Estimate Completed By SRK Consulting – 249,000 Ounces Of Gold

On April 9, 2008 Goldrush announced the receipt of an initial inferred resource estimate for the Ronguen Deposit of 5.9 million tonnes at 1.31 gpt gold using a cutoff of 0.5 gpt and a top-cut threshold of 9 gpt, for a total inferred gold resource estimate of 249,000 ounces. Significant highlights contained in the Ronguen Mineral Resource Statement are:

* "SRK is of the opinion that additional drilling below the 280 metre elevation may extend the gold mineralization at depth and has the potential to significantly increase the mineral resources. This suggests that further drilling at depth is highly warranted."
* "Based on our (SRK's) review of the data, a 10,000 metre drilling program is recommended as summarized below:
o Infill drilling on 18 sections (40 metre spacing) with 3 boreholes testing at 30, 65 and 110 metres below the surface (54 boreholes totaling 3,800 metres);
o Infill drilling near the surface on existing sections (9 boreholes totaling 340 metres);
o Depth Extension – first phase with one hole step out (17 boreholes totalling 2,800 metres);
o Depth extension – second phase one additional step out hole (13 boreholes totaling 2,200 metres);
o NE Extension – 4 sections to NE 240 metres each (12 boreholes totaling 800 metres);
o West Estension – 4 sections to NE 240 metres each (12 boreholes totaling 210 metres)."

Company management intends to incorporate these recommendations into future exploration programs. The next phase is a core drilling program of 5,000 metres in Q2, 2008 with the twin objectives of:

* extending the Ronguen Main Zone at depth beyond 80 metres and along strike to the east and west,
* investigating a promising parallel structure several hundred metres to the south of the Ronguen Main Zone that was discovered by trenching.
Management
Directors and Officers
Len W. Brownlie, Ph.D President, CEO and Director

Dr. Brownlie graduated from Simon Fraser University in 1993 with a Doctoral degree in Kinesiology. Dr. Brownlie is the President of Brownlie Management Ltd. (a private consulting company). Dr. Brownlie has over 27 years of experience in administrative and executive positions with Vancouver-based mining exploration companies.
Driff Cameron, P. Geo., Director

Mr. Cameron is the Vice-President of Exploration for High River Gold Mines Ltd. ("High River"), and is a member of the Association of Professional Geoscientists of Ontario, a fellow of the Geological Association of Ontario and a member of the Society of Economic Geologists. Mr. Cameron has over 30 years of international experience in mining exploration with ASARKO Company of Canada Ltd., Gold Fields Canadian Mining Limited and High River. Driffield Cameron has played a leadership role in the teams responsible for the exploration and discovery of High River's Taparko gold deposit in Burkina Faso, the Dunlop #3 gold deposit of the New Britannia Mine in Manitoba and the Springpole gold deposit in Ontario.
Robert Young, B.Sc., P. Eng., Director

Mr. Young is an independent geological consultant with over 40 years of experience in geological exploration. Prior to his retirement from TECK Corporation in 1999, Mr. Young held the title of Vice-President, Special Projects and South American Exploration. Prior to working with TECK, Mr. Young held several positions of advancing responsibility with Placer Development Corporation during a 32 year career, culminating as Field Manager of International Exploration.
Kim Phillips, B. (Comm.) Director and Chief Financial Officer

Mr. Phillips graduated from the University of British Columbia in 1982 with a Bachelor of Commerce degree. He is President and General Manager of Strive Management Ltd. (a private consulting company). Mr. Phillips has over 17 years experience in senior management positions for public companies listed on the TSX Venture Exchange.
Allan Williams, Director

Mr. Williams is a self-employed business consultant with over 20 years experience involving public companies and venture capital markets. Mr. Williams presently serves as a director or officer of Palladon Ventures Ltd., Maestro Ventures Ltd. and First Factor Developments Inc., which trade on the TSX Venture Exchange.

Don Willoughby, Vice President Corporate Development

Mr. Willoughby has been involved with the senior management of public, junior resource exploration companies for a period spanning over 30 years. He has considerable experience in the financing of public companies as well as having owned and managed a variety of private ones.
Hauptaktionäre
Total Shares o/s:
63,060,352
Major shareholders:
High River Gold Mines Ltd.
12%
Sprott Asset Management Ltd.
13.2%
Pinetree Capital
> 8 %
ACC Resources
> 8 %
Management
> 8 %
Kontakt
Head Office
1700 – 700 West Pender St., Vancouver, BC V6C 1G8
P: 604-602-9973 F: 604-682-2993
E: [email protected]
E: [email protected]shresources.ca
President and CEO
Len W. Brownlie, Ph.D
Suite 1700 – 700 West Pender Street
Vancouver, BC, Canada V6C 1G8
Tel.: (604) 602-9973
Fax: (604) 682-2993
Email: [email protected]
Unternehmensinformationen
Toronto Office
Don Willoughby
Vice President Corporate Development
Email: [email protected]
Telephone: (416) 320-2448
Burkina Faso Office
Goldrush Burkina SARL
(new address to be posted shortly)
Investor Relations

Email: [email protected]
Website: www.goldrushresources.ca
Transfer Agent

Computershare Investor Services
510 Burrard Street
Vancouver, BC V6C 3B9
Auditors

DeVisser Gray Chartered Accountants
401-905 West Pender Street
Vancouver, BC V6C 1L6
Solicitors

Axium Law Group
3350 – 1055 Dunsmuir Street
Vancouver, BC V7X 1L2
Listed

TSX Venture Exchange
Symbol: GOD
CUSIP #: 381453
Goldrush Resources Ltd. is a publicly-owned, junior mineral resource exploration company listed on the TSX-V exchange. It is exploring for gold in the West African country of Burkina Faso where it holds 5 highly prospective permits covering 922 sq. km. The Company's permits are all located within the West African Birimian Greenstone Belts having a prolific history of gold production in this area of the world.
Anleger, die in Goldrush Resources interessiert sind, haben auch angesehen: