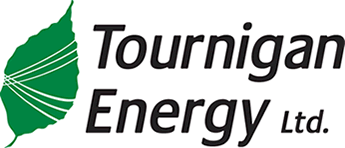 Tournigan Energy
www.tournigan.com/s/home.asp
Profil
Tournigan Energy ist ein Uranexplorations-und-entwicklungsunternehmen mit einem Portfolio von vielversprechenden Liegenschaften in Europa. Die Firma's wichtige 'Kuriskova' Liegenschaft ist eine hochgradige Uranlagerstätte in östlichen Slowakei.
Aktienkurs
Aktuelle Nachrichten von Tournigan Energy
Vorstellungen
Keine Unterlagen verfügbar.
Verbundene Recherche
Keine Unterlagen verfügbar.
Unternehmensstrategie und – daten:
Tournigan Energy established operations in Slovakia in 2003 and has since advanced one of Europe's most significant high-grade uranium deposits, Kuriskova. The current resource at Kuriskova is 20.5 million pounds U3O8 Indicated contained in 1.6 million tonnes at 0.571% U3O8 and 17.5 million pounds U3O8 Inferred contained in 3.5 million tonnes at 0.228% U3O8; cut-off of 0.05%U.In June of 2009. Tournigan holds 100% interest in six uranium licences covering 151.8 km2 within the 60-kilometre strike length of the Slovak Carpathian uranium belt. Slovakia, an EU member since 2004, has four operating nuclear reactors providing more than 50% of its current energy requirements making it the third largest per capita user of nuclear power in the world. The country is adding two new reactors by 2013.
Aktuelle Tätigkeiten:
URANIUM

Kuriskova Uranium Deposit - Slovak Republic - 100% interest in licences




The Kuriskova property consists of 32 square kilometres of mineral licenses situated approximately 10 km northwest of the city of Kosice, a regional industrial centre in East-Central Slovakia. The current uranium resource at Kuriskova, announced in March, 2010 and reviewed, audited and approved byTetra Tech, Inc. comprises:

20.5 million pounds U3O8 indicated resource at an average grade of 0.571% U3O8; and
17.5 million pounds U3O8 inferred resource an average grade of 0.228% U3O8
(cut-off of 0.05%U, NI 43-101 compliant).

In June of 2009, Tournigan announced the results of a positive Preliminary Assessment of the Kuriskova deposit prepared by an independent consultant (Pincock Allen and Holt. The study concludes that the Kuriskova project has robust economic potential and could be developed using conventional mining and processing methods (see Preliminary Assessment summary table below).

Current Resource:
On March 24, 2010 Tournigan announced an updated resource estimate for the Kuriskova uranium deposit which significantly increased the amount of uranium contained in the Indicated resource and increases the overall size and grade of the deposit. Tetra Tech, Inc., the firm that is conducting the ongoing prefeasibility study on Kuriskova, reviewed and audited the updated resource estimate.

Highlights of the updated estimate include:

* About 5.9 million pounds of U3O8 have been added to the Indicated resource category, bringing the Indicated resource to over 20.5 million pounds of U3O8;
* The average grade of the Indicated resource has increased from 0.558% to 0.571% U3O8;
* Overall the uranium oxide contained in the Kuriskova deposit has increased by 5.5 million pounds of U3O8 and now comprises 20.5 million pounds in Indicated resource and an additional 17.5 million pounds in Inferred resource;
* A new zone of high grade uranium mineralization, currently showing an average grade of 0.677% U3O8 and known as Zone 45, has been discovered. This zone remains open along strike and has the potential to add significant amounts of high grade uranium mineralization with further drilling.




2009-2010 Exploration
The objective of Tournigan's 2009-2010 drilling program at Kuriskova has been to continue expanding the resource, to upgrade a significant portion of the inferred resource to the indicated category, to increase the overall grade of the deposit and to provide subsurface geotechnical and hydrogeological data to be used for engineering design. The March 24, 2010 resource estimate incorporates the results of 28 diamond drill holes totaling 7,548 metres that were drilled since the last resource estimate disclosed February 24, 2009. To complete the prefeasibility, Tournigan has planned for an additional 9,500 metre drill program for the balance of 2010.

2009-2010 Exploration Map





Location, Access and Infrastructure
The Kuriskova property consists of 32 km2 of mineral claims approximately 10 km northwest of the city of Košice, a regional industrial centre in eastern Slovakia. The property, which is easily accessible, lies close to the main road between Košice in the southeast and the town of Spišska Nová Ves in the northwest. The project is accessible off the main road along a network of minor, unsurfaced tracks that traverse the forest, and give access to the project area.

History
Tournigan acquired a 100% interest in the Kuriskova uranium deposit and surrounding claims in 2005. Uranium mineralization was originally discovered at Kuriskova in 1985. Up to the time of the demise of the Soviet Union in 1989, all uranium exploration and mining in Czechoslovakia was conducted by State-owned organizations. In 1993 the state of Czechoslovakia split into the countries of the Czech and Slovak Republics. Work on state funded projects such as the Kuriskova deposits stopped in 1996 when the country returned to a market economy system and the state was unable to keep funding its mining projects.

Geology
The Kuriskova uranium deposit is part of a belt of largely strata-bound uranium-molybdenum deposits hosted in a sequence of Permian-age meta-volcanic/sedimentary rocks in eastern Slovakia. The deposit has a northwest-southeast strike, and a variably steep-moderate southwest dip (60 degrees in the upper part, 47 degrees in the lower part). The overall dimensions of the main zone of the deposit established to date by drilling, start about 120 metres below the surface and extend to a depth of approximately 650 metres below surface. The deposit has been defined approximately 650 metres along strike by 530 metres down-dip by 2.5 metres thick.

Uranium and molybdenum mineralization is localized along the contact of overlying (younger) metamorphosed volcanic rocks and an underlying (older) unit of metamorphosed sediments (shales and quartzites) - see figure above. Most of the mineralization occurs within an andesitic volcanic unit and is only rarely observed in the underlying sediments.

On a regional scale, the volcanic-sedimentary package that hosts the Kuriskova resource is Permian in age and lies within a large regional syncline (u-shaped fold) that is further deformed by sets of thrust and reverse faults and high-angle normal faults. The mineralized horizon appears to have repeated several times by stacked thrust and/or faults.

Energy Policy of Slovakia
On October 15, 2008, the Slovakian government approved a Strategy of Energy Security for the Slovak Republic. This strategy emphasizes the continued use of nuclear generated power as part of the country's energy mix and states:

"Legislative and economic support of efficient and rational use of domestic sources of uranium ores has the potential to decrease the country's considerable dependency on supplies of energy resources."

In 2007, approximately 55% of Slovakia's power production of 14,200 million kilowatt-hours was produced from nuclear power plants with a total capacity of 1,685 MW from four operating reactors. Slovakia is the world's third highest per capita consumer of nuclear generated power after France and Lithuania (World Nuclear Association, 2009). Slovakia's current uranium consumption is 313 tonnes per year. This does not include any future uranium requirements for reactors under construction or being proposed.

Qualified Persons
The Preliminary Assessment was prepared by an engineering team from Pincock, Allen & Holt (part of Runge Limited) of Lakewood, Colorado. Authors included Mr. Terry Laverty, a registered professional engineer, Mr. Tom Noyes, a registered professional engineer, and Mr. Ray Hyyppa, a registered professional engineer. Mr. Terry Laverty, the Independent Qualified Person under the standards of NI 43-101, was PAH's Project Manager.

Dorian L (Dusty) Nicol, B.Sc. Geo, M.A. Geo., Tournigan's President and CEO, is a Qualified Person as defined by National Instrument 43-101 and has reviewed and approved the technical disclosure contained on this website.

To find our more CLICK HERE


Novoveska Huta Uranium Deposit - Slovak Republic - 100% interest in licenses

At the western end of the Carpathian uranium belt, approximately 65 kilometres west of Kuriskova, is the Novoveska Huta deposit. The deposit was a historical uranium producer with an open pit and underground workings. A historic resource, from drilling completed between 1975 and 1985 reported the following:




History
Tournigan acquired Novoveska Huta, consisting of 13 km² in a single exploration licence, in 2005. The property, once a producing mine with open pit and underground operations, was shut down in the early 1990's due to low uranium prices and the collapse of the former socialist economy. The previous owner completed underground development exceeding 5,500 metres on 5 vertical levels connected to an existing 600-metre deep shaft.

Geology
Uranium mineralization at Novoveska Huta is similar in style and character to that of Kuriskova, occurring along the contact of meta-volcanic rocks and underlying meta-sedimentary rocks. The mineralized horizon varies from 100-200 metres deep at the west, to 450-600 metres deep at the east.

(1) The Company has reviewed the above historical resource estimates and views them relevant. The historic exploitation of Slovak deposits in general and metallurgical test records acquired with the Company's deposits in particular suggests the reliability of the historical resource estimates. The Slovak category P & Z-3 is roughly analogous to the Canadian Institute of Mining, Metallurgy and Petroleum's definitions for Indicated and Inferred Resources, respectively. However, the Company has not done the work necessary to verify the classification of the resources and the resources are not classified according to CIM's Standards on Mineral Resources and Reserves Definitions. Investors are cautioned not to rely upon these estimates.

(2) Uranium metal (U) grades were converted to uranium oxide (U3O8) grades using a factor of 1.17924.

To find out more CLICK HERE


Airborne Survey

In March, 2008 Tournigan announced the results of an airborne magnetic and radiometric survey on its uranium licences in eastern Slovakia. The survey was flown by McPhar Geosurveys Ltd. and identified 25 priority targets in addition to the known deposits within Tournigan's uranium licences.

The airborne survey consisted of 16,253 line kilometers. Flight lines were orientated almost north-south at a spacing of 100 metres and tie lines were orientated almost east-west at a spacing of 1,000 metres.

A follow up ground radiometric program will be initiated on these anomalies with the intention of establishing future drill targets. Detailed maps of the airborne survey are found below (to view these CLICK HERE)




To find out more CLICK HERE


GOLD



Tournigan Signs Option Agreement on Kremnica Gold Property
On January 28, 2010, Tournigan Energy executed a share purchase agreement with Ortac Resources plc of London for Ortac acquire all of the shares of Kremnica Gold s.r.o and Kremnica Gold Mining s.r.o. the holder of the Kremnica gold deposit located in Slovakia. This new agreement supersedes a previous June 7, 2009 option agreement. On closing of the amendment agreement, Ortac will purchase and take possession of 100% of the Kremnica Shares for consideration of US$2 million to be paid in a combination of US$100,000 cash and a US$1,900,000 non-interest bearing promissory note that will be due for settlement upon Ortac completing a Public Listing (IPO) during 2010. Upon future production, Ortac will pay Tournigan US$3,750,000 in cash or in Ortac shares and a 2% net smelter return (NSR) royalty on gold and silver production. Ortac may buy back half the NSR granted to Tournigan by paying Tournigan US$ 1 million cash. For details, click here for the January 28, 2010 news release.

District Scale Potential at Kremnica
Kremnica has produced over 1.5 million ounces of gold, essentially from one vein system. This epithermal vein represents only a small fraction of an area of at least 120 square kilometers of Tertiary-age volcanic rocks. These rocks exhibit alteration and geochemical anomalies indicating the possibility of additional significant mineralization. Although there has been some reconnaissance exploration in the surrounding prospective ground, most exploration has focused on the footprint of the historic mining. Tournigan believes that there is the potential to discover one or more additional mineralized systems similar to Kremnica in the adjacent ground within Tournigan's exploration licences, to the south of the historic resource.

Tournigan staff is compiling the historic exploration data along with data generated during the 2008 geochemical sampling program. This is in order to produce a district-scale compilation of geologic, structural, geochemical and geophysical data. It is expected that the result of this compilation will be the generation of new targets which may be worthy of follow up.

To find out more CLICK HERE
Management
Board of Directors & Management

Dorian L. (Dusty) Nicol, B.Sc. Geo, M.A. Geo
President and CEO
Mr. Nicol has over 30 years of international experience in mineral exploration and mining. His past positions include Executive V.P. - Exploration with Yukon-Nevada Gold, President and CEO of Queenstake Resources, Latin America Manager for Canyon Resources, V.P. Exploration for Castle Exploration with programs in Central America and Africa, and exploration positions with Exxon Minerals and Renisson Gold Fields in Papua New Guinea. Among other achievements, his programs have led to the addition of over 1.5 million ounces of gold at Jerritt Canyon, Nevada, including the discovery of a new mine at Starvation Canyon. He is a member of the American Institute of Professional Geologists and a Fellow of the Society of Economic Geologists. He has a B.Sc. in geology from M.I.T. and a Master's Degree in Geology from Indiana University and is fluent in five languages.

Boris Bartalsky, Ing, PhD
Country Director, Slovakia
Mr. Bartalsky has been managing exploration of the uranium and gold deposits that are now part of Tournigan's licences since 1996. Prior to that, he was deputy director, applied geology, for the Geological Survey of Slovakia. Mr. Bartalsky is a graduate of the Technical University, Košice and holds a PhD in geology.

Alva L. Kuestermeyer, BSc, MS
Vice President Engineering / Environmental
Mr. Kuestermeyer has over 35 years of operational and consulting experience in the minerals industry specifically in project management, mineral processing, extractive metallurgy, market analysis and project economics. He joins Tournigan after spending four years at SRK Consulting (U.S.), Inc. in Denver, CO, as its Principal Metallurgical Engineer / Mineral Economist. His work has included numerous consulting assignments for uranium, base and precious metals, ferroalloys, non-ferrous and industrial mineral projects world-wide. Previously, he worked at ASARCO, Dames & Moore, Behre Dolbear, PAH and SRK. He has a B.S. in Metallurgical Engineering and an M.S. in Mineral Economics.

Ravi Sharma, MAusIMM
Manager, Resources and Reserves
Mr. Sharma has over 19 years experience as a mining and exploration geologist. Prior to joining Tournigan he worked as Chief Mine Geologist for Barrick Gold Corporation's Bulyanhulu Mine in Tanzania where he was responsible for mine geology and near mine exploration. He held the position of Chief Mine Geologist for Vedanta Resources, Zod Gold Mines in Armenia. Mr. Sharma is a member of AusIMM and a qualified person for NI 43-101 reporting purposes.

Doris Meyer, CGA
Chief Financial Officer and Corporate Secretary
Ms. Meyer is a member of the Association of the Certified General Accountants of British Columbia and Canada. She was vice president, finance of Queenstake Resources Ltd. from 1985 to 2003 and corporate secretary until 2004 where she led negotiations of joint venture and purchase agreements, equity financings, debt financings and capital purchases. In 1996 Ms. Meyer formed Golden Oak Corporate Services Ltd. Ms. Meyer acts as chief financial officer and/or corporate secretary of several publicly traded mining companies and her company provides those clients with administrative, accounting and compliance services.

Knox Henderson
Director, Corporate Communications
Mr. Henderson brings more than 15 years experience in investor relations and corporate communications, the most recent five years working for Vancouver-based exploration companies. A former licensed securities trader on the Canadian equities markets, he is also a graduate in journalism.

To find out more on Board of Directors & Management CLICK HERE
Hauptaktionäre
Kontakt
Corporate Office:
Unit 1 - 15782 Marine Drive
White Rock, BC
Canada V4B 1E6
Telephone: 604-536-2711
Fax: 604-536-2788

Investor Relations Office:
#420-744 West Hastings St.
Vancouver, BC
Canada V6C 1A5
Telephone: 604-683-8320
Fax: 604-683-8340

Denver Operations Office:
600 17th St. Suite 2800
Denver, CO
USA 80202-5428
Telephone: 720-904-9143
Fax: 303-260-6401
Unternehmensinformationen
Legal Counsel: Stikeman Elliott LLP
Suite 1700, Park Place
666 Burrard Street
Vancouver, BC
Canada V6C 2X8
Telephone: 604-631-1300
Fax: 604-681-1825
Auditors: KPMG LLP Chartered Accountants
777 Dunsmuir Street
Vancouver, BC
Canada V7Y 1K3
Telephone: 604-691-3000
Fax: 604-691-3031

Transfer Agent: Computershare Investor Services Inc.
510 Burrard Street
Vancouver, BC
Canada V6C 3B9
Toll Free: 1-888-661-5566
Anleger, die in Tournigan Energy interessiert sind, haben auch angesehen: