Tanami Gold
www.tanami.com.au/
Profil
Tanami Gold NL is an Australia-based company engaged in gold mining and mineral exploration. Tanami Gold NL's gold operations are located approximately 30 kilometres west of the Western Australia-Northern Territory border. The Coyote mine once seen as a "narrow vein gold deposit" is proving to be anything but that with mining revealing mineralised zones up to 5 metres wide and in deeper diamond drill holes, widths to 10 metres. Grades over these widths have averaged around 7-12 grams per tonne Au. The Company is currently in the early stages of developing the main Gonzales lode underground and the P2 ore-body in the open pit is planning to initially target 50-70,000 ounces per annum.
Aktienkurs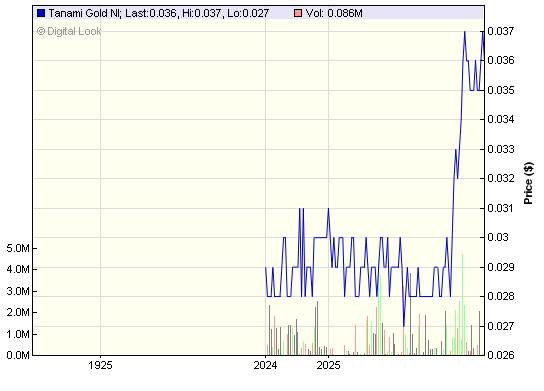 Vorstellungen
Keine Unterlagen verfügbar.
Verbundene Recherche
Keine Unterlagen verfügbar.
Management
DIRECTORS AND SENIOR PERSONNEL
Chairman
Denis P Waddell
ACA, FAICD (appointed 21 July 1995)
Denis Waddell, aged 53, is a Chartered Accountant with extensive experience in the management of exploration and mining companies. Prior to establishing Tanami Gold NL in 1994, Denis was the Finance Director of the Metana Minerals NL group and previously worked for Alcoa Australia and KPMG. During the past 26 years, Denis has gained considerable experience in corporate, finance and operations management of exploration and mining companies.
---
Managing Director/CEO
Graeme J Sloan
B.App.Sc(Mining) (appointed 18 September 2008)
Graeme Sloan, aged 55, is a Mining Engineer with extensive operational and corporate experience both within Australia and overseas including Managing Director/CEO positions of publicly listed mining companies. Graeme's mining experience has been gained in different commodities and includes project development, open pit and underground mining.
---
Non-Executive Director
Alan A Senior (appointed 31 July 2007)
Alan Senior is a Consulting Engineer with over 30 years of experience in design and project development mainly associated with the mining and mineral processing industry in Australia. Alan's previous roles included Project Manager for the development of the Cosmos Nickel Mine and the subsequent transition from open cut to underground mining for Jubilee Mines NL.
---
Non-Executive Director
Lee Seng Hui (appointed 5 March 2008)
Mr Lee Seng Hui, aged 40, is currently the Chief Executive of Allied Group Limited, a Hong Kong listed company, having been appointed in January 1998. Seng Hui graduated with Honours from the Law School of the University of Sydney. Seng Hui previously worked with Baker & McKenzie and NM Rothschild & Sons (Hong Kong) Limited. Following the appointment of Non-Executive Director of Allied Group Limited in July 1992, Seng Hui became an Executive Director in December 1993 and is also a Non-Executive Director and Chairman of Tian An China Investments Company Limited and an Executive Director of Yu Ming Investments Limited, both of which are Hong Kong listed companies.
---
Company Secretary
Kim Hogg, B.Com.
Kim Hogg is a principal of an accounting practice providing specialist services to clients seeking to raise capital and list on ASX. He has predominantly been involved in the preparation of prospectuses and in compliance work as Company Secretary for both listed and unlisted entities. Kim is currently Company Secretary of several ASX-listed companies.
---
Chief Financial Officer
Jon Latto, B.Com, CA, MBA, Grad. Dip. App. Corp. Gov. ACIS
Jon Latto is a chartered accountant with over 16 years' experience gained both locally and internationally. Prior to joining Tanami Gold NL in November 2007, Jon was a Senior Manager within Ernst & Young's Business Advisory Services division working in Australia, America and India on projects focused primarily on finance function reform. Prior to this, Jon held roles with Iluka Resources Limited in Australia, and Halifax Bank of Scotland and Cable & Wireless in London.
---
General Manager Operations
Robert Walker
Mr Rob Walker has over 35 years' experience in the mining and exploration industry and has worked extensively with both surface and underground mining operations. Rob has owned and operated several mining and processing projects within Western Australia working primarily in gold, copper and nickel. He is a founding director of emerging ASX listed lithium producer Galaxy Resources and played an integral role in the company's establishment and project acquisition. Rob's extensive mining experience, network of personnel and strong commercial focus provides Tanami Gold NL the expertise required for remote mine operations.
---
Mining Manager
Tony Deacon
Mr Tony Deacon has over 30 years' experience in the mining industry working in a wide range of hands on and managerial positions covering all facets of underground mining. He has worked for mining operations throughout Australia but predominantly in Western Australia. In recent years Tony has filled a number of senior managerial positions for both contracting and owner operator companies. Tony's focused approach to getting the job done and his expertise in underground mining further strengthens the Company's operational ability.
---
Geology Manager
Robert Henderson
Rob Henderson is a Geologist with 26 years' experience in mineral exploration and mining. After graduating from the Western Australian Institute of Technology (now Curtin University) in 1983, Rob worked in the onshore oil industry before moving into diamond exploration in the Northern Territory with CRA Exploration. Rob became involved with gold mining and exploration in 1985 at Metana Minerals NL's Reedy Gold Mine where he worked for four years before transferring to Metana's exploration division. In 1990 Rob moved to Kalgoorlie and during the next 18 years worked for various companies including MMC Management, Kilkenny Gold, Goldfields Limited, Exploration and Mining Consultants, Delta Gold-Auriongold-Placer Dome-Barrick and Consolidated Minerals in mining and exploration at Senior Geologist and Manager levels. During this period, Rob obtained his WA Quarry Manager's Certificate of Competency. Rob held the position of Exploration Manager-Nickel with Consolidated Minerals through 2007 and 2008 and consulted to a number of listed and private mining companies prior to joining Tanami Gold NL in September 2009.
_______________________________________________________________________________
Hauptaktionäre
Kontakt
Address:
Level 4, 50 Colin Street
West Perth
Western Australia
Australia
6005
| | |
| --- | --- |
| E-mail: | This e-mail address is being protected from spam bots, you need JavaScript enabled to view it |
| Telephone: | +61 8 9212 5999 |
| Fax: | +61 8 9212 5900 |
| | |
| --- | --- |
| Information: | Postal:P.O. Box 1892 West Perth, Western Australia 6872 |
Unternehmensinformationen
Directors
Executive Chairman : Denis P Waddell
Managing Director/CEO: Graeme Sloan
Non-Executive Director : Alan Senior
Non-Executive Director : Lee Seng Hui
Company Secretary
Kim Hogg
Registered Office
Level 4, 50 Colin Street, West Perth, Western Australia 6005
P.O. Box 1892 West Perth, Western Australia 6872
t: +61 8 9212 5999
f: +61 8 9212 5900
w: www.tanami.com.au
e: This e-mail address is being protected from spam bots, you need JavaScript enabled to view it
Auditors
KPMG
31st Floor, Central Park
152-158 St George's Terrace
Perth, Western Australia 6000
Share Registry
Security Transfer Registrars Pty Ltd
770 Canning Highway
Applecross, Western Australia 6153
t: +61 8 9315 2333
f: +61 8 9315 2233
Stock Exchange
ASX Limited
Exchange Plaza
2 The Esplanade
Perth, Western Australia 6000
ASX Code
TAM Ordinary Shares
Anleger, die in Tanami Gold interessiert sind, haben auch angesehen: