Sunrise Resources
www.sunriseresourcesplc.com/index.html
Profil
Sunrise Resources plc ('SRES') is a British-led diversified mineral exploration and development specialist.
Aktienkurs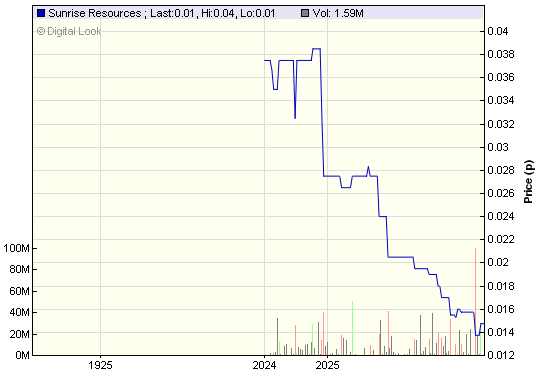 Vorstellungen
Keine Unterlagen verfügbar.
Verbundene Recherche
Keine Unterlagen verfügbar.
Unternehmensstrategie und – daten:
Sunrise Resources plc is an AIM-traded diversified mineral exploration and development specialist.
The Company's objective is to develop profitable mining operations to sustain the Company's wider exploration efforts and create value for shareholders through the discovery of world-class deposits.
The company is evaluating a production opportunity for white barite in South-West Ireland, has diamond exploration interests in Western Australia and Finland and has now acquired two gold exploration projects in Western Australia.
Shares in the Company trade on AIM under the symbol "SRES".
Aktuelle Tätigkeiten:
CUE DIAMOND PROJECT
Project Overview
The Company is exploring for diamonds on Exploration Licence E20/727 (70 sq. km.) 70km to the north-west of the town of Cue in the Murchison Mineral Field in the Yilgarn Craton of Western Australia.
The project area was explored by De Beers in the period 1994-2002 during which time De Beers discovered a number of kimberlite dykes in two separate areas within the Company's application area – Cue 1 and Soapy Bore.
At the "Cue 1" the Company has carried out a surface sampling and a limited drill programme to collect samples for diamond grade evaluation and to obtain samples for geochemical evaluation and gain important information about the general prospectivity of the Cue kimberlite field.
Drill samples of the Cue 1 kimberlite were assessed as indicating an overall low diamond grade for this particular kimberlite but the geochemical evaluation using Minerals Services Mantle MapperTM technology has indicated a high prospectivity for the region.
At Soapy Well, 7km to the west, at least three closely spaced kimberlite dykes, up to 3m wide, were encountered by De Beers in two 400m spaced drill. This is an important target for the Company.
The Company has discovered a number of surface occurrences of kimberlite float which point to the potential for new diamond discoveries. One of these, Target 5 has yielded a strong microdiamond count which makes it a priority target for further work.
Mantle Mapper
It is well established that the diamond content of individual kimberlite bodies within a kimberlite field can be highly variable with non-diamondiferous, low grade and high grade kimberlites often present in the same field. Furthermore, the diamond content of an individual kimberlite body can be variable between different phases of that same kimberlite.
Mantle Mapper™ is a procedure developed by Mineral Services to quantitatively analyse the abundance and composition of key mantle-derived minerals (indicator minerals) in kimberlite. This allows quick, cost-effective and reliable evaluation of the diamond potential of the host body as well as an assessment of the nature and general diamond prospectivity of the mantle sampled.
Diamond Prospectivity
The samples so far evaluated for diamond grade come from a very limited part of the Cue 1 kimberlite dyke so it is important at this early stage of exploration to establish not just the prospectivity of different parts of the same body but also the general diamond prospectivity of other kimberlites in the same field. Mineral Services proprietary 1Mantle MapperTM procedure is a powerful tool in this evaluation.
Mineral Services has processed a 10kg sample of the Cue 1 kimberlite for recovery of kimberlite indicator minerals ("KIMs"). The sample was processed for extraction of KIMs and their composition determined by microprobe analysis. This mineral composition data was combined with similar data obtained for KIMs extracted from the 36kg Cue 1 kimberlite surface sample.
The KIMs recovered from the samples have characteristics consistent with derivation from a kimberlite. The concentration of KIMs in the samples is very low. While weathering processes may have played a role in reducing KIM abundance (in particular that of the silicate minerals garnet and clinopyroxene), the data are interpreted by Mineral Services to indicate low original concentrations of these minerals, consistent with the low macrodiamond grade inferred on the basis of microdiamond results.
Significant and positive technical findings of the Mantle MapperTM analysis reported by Mineral Services are as follows:
Calculated pressures and temperatures for chrome diopside imply some deep sampling by the ascending kimberlite magma of garnet peridotite from significant depths on a cool cratonic geotherm (a fertile source for diamonds).
Compositions of the limited number of peridotitic garnets recovered, particularly the presence of two G10 (diamond associated harzburgitic composition) grains, confirm that some high pressure diamond bearing peridotite has been incorporated and that peridotitic diamonds will likely be present, albeit in probable very low quantities within the material sampled.
Ilmenite compositions reflect neutral redox conditions at the time of kimberlite emplacement and so diamond resorption (which can reduce the size of the diamonds) is not likely to have impacted the diamond population.
Mineral Services concludes that whilst the results obtained for samples evaluated to date indicate a very low diamond potential for that part of the body that they represent, the indicator mineral data suggests the area in which it occurs is broadly prospective for diamonds.
Cue 1 - Grade Modelling
Mineral Services has carried out size distribution and grade modelling on microdiamond data for six samples of percussion (RC) drill chip material obtained from the Cue 1 kimberlite and a single sample collected from its surface outcrop.
The results of modelling indicated that, whilst small diamonds are present in significant quantities, the diamond population is fine grained and macrodiamonds are likely to be scarce. The modelled macrodiamond grade for all sample groups was less than 2 carats per hundred tonnes.
Other Targets
The Company's field work has led to the discovery of a number of surface occurrences of kimberlite float which point to the potential for new diamond discoveries.
One of these, Target 5 has yielded a strong microdiamond count which makes it a priority target for further work.
FINLAND DIAMOND PROJECT
Project Overview
Our diamond projects are located in the centre of the Karelian Craton (a part of the Fenno-Scandian Shield), which extends from Sweden, through Finland and eastwards into Russia.
The diamond prospective area of the Karelian Craton in Finland covers over 300,000km2 and is nearly the same size as the Slave Craton in Canada and is as prospective as other cratons in the world containing economic diamond deposits.
Kimberlites are widely distributed in the Karelian Craton and a higher-than-average percentage of these kimberlites contain diamonds. In the Russian part of the Craton, large economic diamond deposits have been discovered in the Arkhangelsk region, including the Lomonosov diamond project run by Alrosa and the highly diamondiferous Grib pipe.
Sunrise has discovered a new kimberlite cluster in the Kuusamo area of northern Finland, a new pipe in central Finland – Lampi - and holds rights to explore a number of previously delineated diamondiferous kimberlites in the Kaavi-Kuopio area of central Finland.
Exploration of the Company's Finland diamond projects currently has a lower priority than the Cue Diamond Project.
Kuusamo Area
The "Kuusamo" kimberlite cluster comprises the Company's discoveries in the following prospect areas:
• Kalettomanpuro
• Kattaisenvaara
• Lampi
Microdiamonds have been recovered from two of the three Kuusamo kimberlite prospects in preliminary sampling.
The Kalettomanpuro (KP) has been tested by the Company by two drill holes and two separate kimberlites have been intersected.
Detailed mineralogical work has been carried out on thin sections of both of the Kalettomanpuro kimberlites. A 50 kilogram sample of the Group I kimberlite was laboratory tested by caustic digest and micro diamond picking. No micro diamonds were recovered. A 24 kilogram sample of the Group II kimberlite was similarly tested at Independent Diamond Laboratories in Perth, Western Australia. No micro diamonds were recovered but a large suite of diamond indicator minerals was recovered.
Further exploration is required at Kalettomanpuro to explore the known kimberlites and to identify further targets in the immediate area.
The Kattaisenvaara kimberlite (KV) is so far defined by 4 drill holes. A 27kg sample of the Kattaisenvaara kimberlite was laboratory tested by caustic digest and micro diamond picking. One micro diamond was recovered.
Further work is required at Kattaisenvaara to evaluate the potential for different kimberlite facies for the occurrence of diamonds
Lampi Area
The Lampi discovery is more than 10km away from the nearest of the Company's earlier discoveries. Several drill holes have intersected the Lampi kimberlite pipe which exhibits two phases of kimberlite – a breccia phase directly beneath the till and a hypabyssal phase below which starts at 49m and continues to the end of the hole at 55m.
Five micro-diamonds were recovered from a 10kg sample of the hypabyssal phase although a larger 200kg sample of the kimberlite returned only one microdiamond on further testing.
Kaavi-Kuopio Area
Sunrise holds exploration licences over a number of diamondiferous kimberlite pipes in the Kaavi-Kuopio region of central Finland some of these licence areas are subject to a retained 1% GOR royalty interest by Western Standard Minerals. The pipes range in size up to 2.2 hectares and were discovered by Ashton Mining and its joint venture partners in the period prior to that company's takeover by Rio Tinto in 2000, when the emphasis of diamond exploration switched to Canada.
DERRYGINAGH BARITE PROJECT
Project Overview
The Company holds a Prospecting Licence for base metals, barite, silver, gold and platinum group elements near Bantry, County Cork, in the south-west of the Irish Republic.
The Company is targeting the Derryginagh barite deposit for the production of high value white "paint-grade" barite for use as mineral filler in paints and plastics. The Company's original concept was for a modest scale project that could be developed with a low capital cost.
Since acquiring the project in late 2009 the Company has carried out a number of significant work programmes including drilling, metallurgical and marketing studies.
The results of this work were incorporated into a technical and economic Scoping Study completed by Wardell Armstrong International ("WAI") in late 2012. The study highlighted the need to define additional reserves and improve on the metallurgical performance of the testwork carried out so far. These are realistic objectives and work at present is concentrating on developing market opportunities with potential off-take partners which, if realised, will stimulate this further work.
Barite Market
Barite is used as a weighting agent in oil industry drilling muds and as a higher value industrial filler for use in the paints and other products.
White paint-grade barite is the highest-value use for barite having significant sales volumes. Off-white barite is used as a lower value mineral filler and high volumes of low grade barite are used as a weighting agent in drilling mud in the oil and gas industry.
There is a significant demand for white paint-grade barite in Europe but no major mine supply outside of China and India. Consequently there is a niche opportunity for a new European supplier as China's own internal demand limits traditional exports.
The price currently quoted for white paint-grade barite is £195-220/tonne delivered to the UK.
Scoping Study Highlights
Mineral Resource Estimation
Wardell Armstrong International Ltd ("WAI") carried out geological modelling of the historic and recent Company drill data and, for the purpose of the Study, derived a base-case tonnage-grade estimate of 394,000 tonnes grading 81% barite by block modelling using vein outline wireframes provided by the Company and grade estimation by the Inverse Distance Weighting estimation method.
This tonnage-grade estimate was not classified by WAI according to JORC standards as QA/QC data was not available for historical drill holes and there is some uncertainty over the exact locations of these holes.
Mining
The Study considered mine production rates of between 50,000 (base case) and 90,000 tonnes per annum corresponding to product output rates of 27,600 – 48,000 tonnes per annum of white barite concentrate.
After allowances for sterilisation around old mine workings, mine pillars and mine dilution the base-case tonnage grade estimate supports total mine production of 278,340 tonnes at 67% barite.
The mining methods suggested for the Derryginagh mineralisation are a combination of Alimak stoping and longitudinal retreat stoping, with ore being hauled to surface via a decline located to the north of the deposit. The base-case mine life is six years.
Mining capital and operating costs were estimated for both owner operated and contract mining scenarios.
Mineral Processing
The Study considered processing of the ore by means of gravity methods. The process selection includes crushing, ball milling, desliming and size classification and gravity beneficiation using a combination of spirals, shaking tables and multi gravity separators. The final concentrate grade was estimated at 98.5% barite with both coarse (50-500 microns, 80% of total) and a fine (less than 50 microns, 20% of total) concentrates produced.
Conclusions
In all scenarios considered by the Scoping Study the Project shows good operating costs margins but the Project has moved away from the original low capital cost concept as metallurgical testwork results dictated a more complex plant design than originally envisaged. In addition tonnage estimates are necessarily constrained by the drilling carried out so far.
There are however opportunities to enhance the project as follows:
• WAI considers that the available geological information at this stage does not fully reflect the perceived potential of the Derryginagh project as the deposit is open down dip and further drilling may increase the Mineral Resource base sufficiently to support an extended life of the mine and enhanced project economics.
• The current mineral processing flow-sheet is more complex than originally envisaged as metallurgical testwork has not performed according to mineralogical predictions. There is an opportunity to improve and simplify the process plant design with potential benefits to capital and operating costs.
• The revenue assumptions may be conservative. An opportunity exists to achieve substantially higher sales price by fine grinding the barite product. The additional capital and operating costs involved need to be fully evaluated.
The Company is currently focused on stepping up discussions with potential customers and industry partners to make sure that revenue can be maximised for this increasingly scarce commodity and to reflect these in a further evaluation of the Project.
CORONA GOLD PROJECT
Project Overview
In July 2013 the Company applied for exploration licence E51/1586 in the Murchison Mining District of central Western Australia.
The licence application area is located 80km north-east of the town of Cue, 26km to the south of the Company's Baker's Gold Project and 150 km east of the Company's Cue Diamond Project. It covers 84 sq.km. within the Meekatharra Greenstone Belt which has yielded over 5.5 million ounces of gold and contains a number of producing gold mines including the Andy Well high grade gold deposit being developed by Doray Minerals Ltd.
The Corona Project is also located immediately north of the Quinn's Mining Centre, a significant gold producing area and the focus of recent base metal discoveries. The project takes its name from the historic Corona Gold Mining Lease where a high grade gold reef was mined in the period 1910-1911 producing 159 tonnes of ore having a recovered grade of 17 g/t Au.
The application area has undergone only limited exploration as historical mapping of the area misclassified much of the licence area as unprospective granite. Recent mapping demonstrates that the area is underlain by more prospective greenstone.
Historical exploration in the licence area has been carried out by two companies - Homestake (1986) and Gold Mines of Australia (WA) NL ("GMA":1995-6).
Homestake was first attracted to the area on the basis of very high grade reconnaissance samples taken from the Corona Mine area which returned values up to 28g/t gold. Homestake carried out wide spaced geochemical drilling along a structure believed to be associated with the high grade reef, collecting only base-of-hole geochemical samples. This defined a northeast trending gold anomalous zone coincident with the main Corona workings which was open to the northeast, but not followed up.
Subsequently GMA carried out wide spaced soil sampling and rock chip sampling at Corona that confirmed the high gold values but no drilling or follow up work was carried out in the Corona area.
The Company believes that the high grade gold reef at Corona presents an immediate drill target with potential for the discovery of Andy Well style high grade gold mineralisation.
A brief reconnaissance visit has been made to the project area and a number of reconnaissance samples collected.
BAKER'S GOLD PROJECT
Project Overview
In July 2013 the Company applied for 10 contiguous Prospecting Licences (P51/2836-2845) in the Murchison Mining District of central Western Australia.
The licence application area is located 25 km south east of Meekatharra, close to the Sandstone road, 26km to the north of the Company's Corona Gold Project and 150 km east of the Company's Cue Diamond Project. It covers 18 sq.km. on the eastern limb of the Meekatharra Greenstone Belt. This belt has yielded over 5.5 million ounces of gold and contains a number of producing gold mines including the Andy Well high grade gold deposit being developed by Doray Minerals Ltd.
Generally, the eastern limb of the Meekatharra Belt has not seen the same density of exploration as other parts of the belt.
Within the licence application area, the Baker's gold prospect produced a small quantity of gold from small scale workings between 1980-84. The licence has seen various rounds of historical exploration including separate programmes of wide spaced percussion drilling. This generated a number of anomalies that Sunrise plans to follow up including gold mineralisation in historic drill hole DLR 04 completed by Australian Consolidated Minerals in 1987 which averaged 0.55g/t gold (Au) over the 22m interval from 2m down hole depth to the end of hole at 24m and where the final 2m sample (from 22-24m depth) assayed 1.17g/t Au. No follow up drilling was carried out.
The project area is strategically located covering a 4.5km strike length of highly prospective ground in the centre of Doray Minerals Ltd's Meeka East project and to the south of Doray's Side Well gold project where Doray recently announced significant drill results.
Management
Directors & Senior Management


Executive Chairman – Patrick Cheetham
Mr Cheetham is the founder of the Company. He is a mining geologist with 29 years experience in mineral exploration and 23 years in public company management. Mr Cheetham started his career as an exploration geologist in Australia with Western Mining Corporation and prior to that worked for Imperial Metals Corporation in British Columbia, Canada. From 1986 to 1993 he was joint managing director of Dragon Mining NL, during which time he was responsible for the formation of that company, the identification of and acquisition of its exploration projects, its listing on the Australian Stock Exchange and the subsequent development of its exploration projects. Patrick co-founded Archaean Gold N.L. in 1993 - the subject of a successful $50 million takeover bid by Lachlan Resources NL. He is currently also Chairman of Tertiary Minerals plc.


(Senior) Non-Executive Director - Francis Johnstone
Mr Johnstone is a founding director of the Company with over 20 years experience in the mining sector and has been a director of a number of junior resource companies. He is currently an adviser to Baker Steel Resources Trust Limited, an investment company listed on the London Stock Exchange specialising in private mining investments. Prior to that he was Commercial Director of Ridge Mining plc, an AIM listed mining company which took the Blue Ridge Platinum Mine in South Africa, from first discovery through to production which prior to being acquired by Aquarius Platinum Limited in a recommended takeover for £143 million in July 2009.
Non-Executive Director - David Swan
Mr. Swan is a Chartered Accountant with a career focus in the retail and natural resource industries. He joined Arthur Andersen after graduating in 1977, and from 1991-1996 acted as Chief Financial Officer (CFO) or Finance Director for a number of ASX listed mining companies. He returned to the accounting profession in 1996 as Group Leader of the Mining and Resource Group at Ernst & Young in Sydney. After relocating to the UK in 2001 he continued his involvement in the natural resources industry including a position as CFO of Oriel Resources plc undertaking the IPO, TSX listing and reverse take-over of a major smelting business. He has also held various other non-executive directorships, the most recent of which being Everfor Resources plc (formerly Everfor Diamonds plc and Lubel Coal Company Ltd.


Company Secretary - Colin Fitch MA, LLM, FCIS, Barrister-at- Law
Colin Fitch is a Barrister-at-Law, and was previously Corporate Finance Director of Kleinwort Benson, Partner and Head of Corporate Finance at Rowe & Pitman (SG Warburg Securities) and Assistant Secretary at the London Stock Exchange. He has also held a number of non-executive directorships of public and private companies, including Merrydown Plc. Since retiring from full time work he is currently non-executive director of African Lakes and was until recently Company Secretary of both Ridge Mining plc and Cluff Gold.
Hauptaktionäre
Information taken from company website 26.06.2013
Kontakt
Sunrise Resources plc (Registered in England & Wales Company No. 05363956)
Head Office:
Silk Point
Queens Avenue
Macclesfield
Cheshire
SK10 2BB, United Kingdom
Tel : +44 (0)845 868 4590
Fax : +44 (0)1625 838 559
Administration email : [email protected]
Registered Office:
Sunrise House
Hulley Road
Macclesfield
Cheshire
SK10 2LP, United Kingdom
Unternehmensinformationen
Broker & Nominated Adviser
Northland Capital Partners Limited
60 Gresham Street
London
EC2V 7BB
Auditors
BDO LLP
3 Hardman Sreet
Spinningfields
Manchester
M2 3HF
Registrars
Capita registrars
The Registry
34 Beckenham Road
Beckenham
Kent
BR3 4TU
Tel: 0871 664 0300
Oversees Helpline: + 44 208 639 3399
Bankers
National Westminster Bank plc
2 Spring Gardens
Buxton
Derbyshire SK17 6DG
Anleger, die in Sunrise Resources interessiert sind, haben auch angesehen: