Triton Gold Limited
www.tritongold.com.au/
Profil
Triton Gold is a gold exploration company, originally established in 2006 as Australian Mineral Fields Inc. The company has spent the last three years building the right team and positioning itself to come into the capital markets at the right time, with an enviable portfolio of quality gold projects. The Company holds one of the largest prospective gold positions in the Albany Fraser province of WA, behind companies such as AngloGold-Ashanti and Independence Group. The Company's Albany-Fraser projects - Fraser Range North, Salmon Gums and Cundeelee - located within the same mineral belt as the >5Moz Tropicana/Havana deposit, will be a core focus for exploration.
Aktienkurs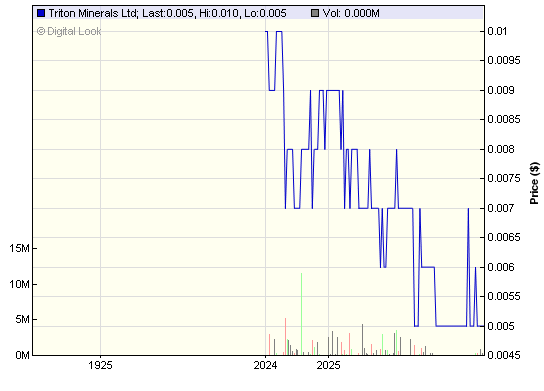 Vorstellungen
Keine Unterlagen verfügbar.
Verbundene Recherche
Keine Unterlagen verfügbar.
Aktuelle Tätigkeiten:
Triton Gold Ltd has selectively assembled a balanced portfolio of gold assets in the Albany-Fraser Province and Yilgarn Craton in Western Australia, and in the Tintina Gold Belt in Alaska.

Albany-Fraser Projects – Fraser Range North, Salmon Gums and Cundeelee

The Company's Albany-Fraser Projects were selectively acquired because their positions overlap the intersections of major and historically productive faults of the Yilgarn Craton and the Albany-Fraser Province, which is deemed by the Company to be geologically significant. The Company's surface geochemistry and early stage drill testing results at both Salmon Gums and Fraser Range North Projects are comparable to those returned at the early stage exploration of Anglogold-Ashanti-Independence Group's Tropicana deposit (comparison from data made publicly available),. The acquisition of these Projects and application of exploration techniques culminated in an alliance with Teck Australia Pty Ltd (formerly Teck Cominco Australia Pty Ltd).

Yilgarn Craton Projects – Windarra Project and Sunday Project

Triton Gold Ltd has entered into an agreement with Poseidon Nickel Ltd to acquire the gold rights to the Windarra Project in the Laverton district in the Yilgarn Craton, Western Australia. This agreement includes acquisition of the Windarra tailings dam asset and first right to negotiate for gold rights in future tenement acquisitions made by Poseidon Nickel over a five year period. The Windarra area is the site of the original Poseidon Nickel Ltd discovery in 1969. As a result, the area has largely been explored for nickel only, with very little gold exploration known to have been completed immediately within the project area. This is despite the Laverton district being host to significant gold deposits such as Wallaby (greater than 5MOz resource) and Sunrise Dam (greater than 7MOz resource).

Triton Gold Ltd holds an option/earn-in agreement over the Sunday Project with Hannan's Reward Ltd. The Sunday Project represents a low cost, mid-stage exploration project with well defined narrow high-grade vein style targets with existing results supporting this model. In particular, recent work by the Company suggests that mineralisation plunges to the south of the historic Sundat pit where only very shallow drilling has been completed to date. Additional targets with gold and lithogeochemical anomalism have been identified for drilling in the near term.

Tushtena Project (Alaska)

Triton Gold has an earn-in agreement with Tushtena Resource Inc. in respect to the Tushtena Project located at the edge of historic and currently productive Tintina Gold Belt in Alaska, which is host to such world class deposits as Pogo (greater than 5Moz – Teck Ltd). The early stage exploration on the Tushtena Project has identified a corridor of greater than 4km strike length of what the Company believes to be very significant gold anomalism in soils and rock chips. Within this corridor are coherent areas greater than 1km in length at above 250ppb gold in soils (with smaller coherent areas above 1g/t gold in soils) and numerous rock chip samples grading above 5g/t gold and up to 1450g/t gold. Limited diamond drilling has been completed (only 16 diamond drill holes) within portions of these anomalous gold zones and many of these holes were drilled in sub-optimal orientation. Triton Gold believes that the Project has the potential to host either, or both, a high-tonnage low-grade bulk mineable resource or low-tonnage, high-grade lode style gold mineralisation.
Management
DIRECTORS
John Loney | Non-Executive Chairman
Mr. Loney has more than 30 years experience in the mining industry, most recently serving for 19 years with Placer Dome where he rose to be Vice President of Risk Management and Assurance, previously serving in other senior roles such as Chief Financial Officer of Placer Dome Asia Pacific. Mr. Loney also held management positions with the mining company Utah International Inc in tax, treasury, insurance, financial planning and analysis as well as Company Secretary. Prior to this, Mr. Loney obtained accounting, tax and audit experience and designation with the Australian Chartered Accounting firm Hungerford Spooner & Kirkhope (now KPMG Australia).
Greg Hall | Interim Managing Director
Mr. Hall's most recent position was Chief Geologist of Placer Dome Group, a post he held for more than five years. Mr. Hall has more than 30 years experience in the exploration and mining industry, 25 years of them in Western Australia. He was directly involved in discovering Rio Tinto's Yandi iron ore mine and Barrick Gold's Granny Smith mine, and took part in the discoveries of Keringal and Wallaby in Australia's Eastern Goldfields, as well as the definition of AngloGold Ashanti's Sunrise gold mine. Mr. Hall holds a Bachelor of Applied Science from the University of New South Wales, Australia.
David Singleton | Non-executive Director
Mr Singleton is the current Chief Executive Officer of Poseidon Nickel Ltd since July 2007. David was the CEO and MD of Clough Limited between August 2003 and January 2007. Prior to that he was the Group Head of Strategy, Mergers and Acquisitions for BAE Systems (formally British Aerospace) in London and prior to that the CEO of Alenia Marconi Systems and was based in Rome, Italy.
Trevor Osborne | Non-executive Director
Mr Osborne has a technical and business background in the electronic and electromagnetic industries. Mr Osborne invented and successfully developed an innovative power generating technology that was eventually marketed in 69 countries. With experience as a public director Mr Osborne has also been involved in arranging a number of successful capital raisings in both industrial and mining ventures. Currently he is involved in gold projects in Indonesia and the United States where his role is to oversee and monitor the introduction of new gold extraction technologies.
MANAGEMENT
Allen Lance Govey | Chief Executive
Officer Mr. Govey has 35 years experience in the minerals sector with wide ranging involvement in successful exploration and mining geology within Australia, Indonesia and the Philippines. Graduating from UNSW in 1975 with a BSc (Hons) degree and JCUNQ with an MSc in Mining and Exploration Geology, his early years were focussed on the copper and tin industries with CSR Minerals Division (Mt Gunson Copper Mine and PT Koba Tin respectively). The majority of the last 30 years has been in the gold sector, primarily within Western Australia including involvement at the discovery stage of Granny Smith, with the original Aztec Mining Group (Forrestania Belt – Bounty Gold Mine) and subsequently with Normandy Mining Group (Golden Grove – Minjar district gold discoveries). Mr. Govey spent the last eight years with Red 5 Limited as Executive Director responsible for exploration and development studies at the million ounce Siana Gold Project in the Philippines. The role spanned the entire exploration phase with the project progressing from scoping to final bankable feasibility studies, with development about to commence. Red 5's market capital increased from $5M to $120M over the period. Other roles included a significant contribution to Red 5's public relations and investor relations function and related successful capital raisings.
Carl Young | Principal Geologist
Mr. Young has approximately 10 years experience in the exploration industry, most recently working with Barrick Gold of Australia and the Predictive Mineral Discovery Co-operative Research Centre in the role of on-site post-doctoral research fellow ("Embedded Researcher) in Kalgoorlie. This role involved the research into ore-system mapping and modelling of a variety of geological deposit styles using a variety of technologies and techniques including spectral geology, geochemistry and 3D GIS. Mr Young graduated with a first class Honours degree in Geology from the University of Western Australia. In 2000, Carl returned to university to undertake PhD studies on the controls on gold mineralisation in the Palaeoproterozoic Ashburton Province in Western Australia. Prior to this, Mr Young gained experience as a mine geologist in open-pit and underground gold operations and later as an exploration geologist in the mineral sands industry at a variety of locations around Australia.
Dr. Scott Halley | Embedded Geochemical Consultant
Dr. Halley has more than 20 years experience as an exploration geologist and has developed industry-leading expertise in exploration techniques based on mapping alteration zonation patterns using spectral mineral mapping and lithogeochemistry. He has contributed to significant gold discoveries at Henty in Tasmania and at Raleigh in the Kalgoorlie region of Western Australia. Dr. Halley has worked for Geopeko, RGC, Goldfields and AurionGold, and as an internal consultant for Placer Dome developing new exploration techniques and transferring them to exploration teams as new protocols. He graduated from the University of Tasmania with a BSc (Hons) in 1982, and gained a PhD in Geology from the Australian National University in 1986.
Jay Stephenson | Chief Financial Officer
Mr. Stephenson holds a Master of Business Administration, is a Certified Practising Accountant (Australia), Certified Management Accountant (Canada), Member of the Australian Institute of Company Directors and Fellow of the Chartered Institute of Secretaries.
Mr. Stephenson has been involved in business development for over 20 years including approximately 16 years as Director, Chief Financial Officer and Company Secretary for various listed and unlisted entities in resources, manufacturing, wine, hotels and property. He has been involved in business acquisitions, mergers, initial public offerings, capital raisings, business restructuring as well managing all areas of finance for companies.
Geoff Handley | Strategic Advisor
Mr. Handley is a professional geologist with 30 years experience in global mineral exploration, acquisitions, corporate development and strategic planning. Prior to his involvement with Triton Gold, he served as vice-president, senior vice-president and executive vice-president at Placer Dome following 12 years of service at Placer Pacific as senior geologist, exploration manager and general manager. His accomplishments include overseeing the delineation of 13 million ounces of platinum group minerals at Sedibelo, 15 million oz. gold at Pueblo Viejo, 4 million oz. of gold at Granny Smith and the acquisitions of East African Gold Mines, Aurion Gold, Highland Gold and Placer Pacific. Mr. Handley received a BSc (Hons) in Geology and Chemistry from James Cook University of North Queensland in 1976.
Michael Raven | Corporate Secretary
Mr. Raven is a corporate and securities lawyer. Prior to establishing his own legal practice in 2005, Mr. Raven was an associate in the Vancouver office of Blake, Cassels & Graydon LLP for five years. His current practice consists of providing clients with legal advice and business consulting services with respect to corporate structures, mergers and acquisitions, corporate governance and public and private financings. He has experience in a variety of industries, including mining, oil and gas, entertainment, technology and software, manufacturing and biotechnology.
Brad Boyle | Company Secretary
Mr. Boyle has extensive experience as in-house council and company secretary. Mr. Boyle recently joined Balance Legal as Manager of Corporate Services where he represents a number of listed and unlisted companies. Previously, Mr. Boyle acquired a diverse range of corporate and private practice experience acting for mining, commercial and government clients across a broad range of sectors, including acting for the Australian Government Solicitor and Commonwealth Director of Public Prosecutions. Prior to being admitted as a lawyer, Mr. Boyle was a member of the West Australian Police Service.
Hauptaktionäre
Kontakt
Triton Gold limited
Suite 18, Level 4
44 Parliament Place
West Perth, Western Australia 6005
Main: INT +61 (08) 9215 4222
Fax: INT +61 (08) 9226 1799
Email: [email protected]
Unternehmensinformationen
Shareholders are directed to liaise with Computershare Investor Services Pty Ltd, for all shareholding enquiries via Investor Queries: 1300 557 010 or via their website at www.computershare.com.au
Anleger, die in Triton Gold Limited interessiert sind, haben auch angesehen: