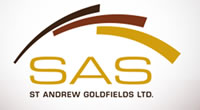 St Andrew Goldfields
www.sasgoldmines.com/
Profil
St Andrew Goldfields Ltd. ist ein kanadisches Goldexplorationsunternehmen mit einem umfangreichen Landpaket im Timmins Bergbau-Gebiet, Ontario, Kanada. Dies liegt innerhalb des bekannten Abitibi Gruenstein-Guertels. Die Firma hat in Oktober 2009 mit der Produktion bei Holloway Mine angefangen. Die 'Hislop' Mine begann die Produktion in Q3, 2010. In der zweiten Haelfte dieses Jahres, begann das Unternehmen die Entwicklungsarbeit auf der Holt Mine. Es will Produktion bis Anfang 2011 beginnen.
Aktienkurs
gründliche Analyse
Aktuelle Nachrichten von St Andrew Goldfields
Vorstellungen
Keine Unterlagen verfügbar.
Verbundene Recherche
Keine Unterlagen verfügbar.
Management
Dr. Louis Gignac P.Eng.
Position: Chairman of the Board
Louis Gignac is the President of G Mining Services Inc., a private consultancy; he previously served as the President and CEO of Cambior Inc., from its creation in 1986 until its acquisition by Iamgold Corporation in November 2006. Mr. Gignac is Chairman of the Board for Gaz Métro Inc., and serves as a director of Domtar Corp., and Franco-Nevada Corporation. He held previous management positions with Falconbridge Ltd., Exxon Minerals and also served as a professor of mining engineering at Laval University. Mr. Gignac holds a Doctor of engineering from the University of Missouri-Rolla, a Masters in mineral engineering from the University of Minnesota and a degree in mining engineering from Laval University.


Herbert Abramson B.A., LL.B
Position: Director, Chairman of the Executive Committee
Herbert Abramson is Chairman and a portfolio manager at Trapeze Capital Corp., an investment dealer/portfolio management company. Mr. Abramson is also Chairman and a portfolio manager at Trapeze Asset Management Inc., an affiliated investment counseling company. Prior to joining Trapeze, he was a Vice President and portfolio manager at Connor Clark for 17 years. Mr. Abramson is a member of the Law Society of Upper Canada and practiced corporate/securities law as a partner at Goodman and Carr for 12 years before going into the investment business. Mr. Abramson has a B.A. and a L.L.B. from the University of Toronto.


Stephen Burns, B.A., C.A. and M.B.A.
Position: Director, Chairman of Audit Committee
Stephen Burns is currently the Chairman and Publisher of Vantage magazine. He is also the Chair and Director of Advantex Marketing International Inc. (TSX:ADX), the Chair of the Audit Committee and Director of Glass Earth Gold Ltd. (TSX-V:GEL), and Vice-Chair of Intelligarde International Inc., a private law enforcement company. From 2002 - 2006 he was Vice Chair of Avenue Corporation, a publicly listed corporation that created, distributed and managed sophisticated investments for high net worth investors. Prior to assuming this role in 2002, Mr. Burns had more than 30 years experience as a financial advisor to entrepreneurial businesses and their owners, with particular strengths in the areas of taxation, financing, investment evaluation and the issues associated with growth and succession. Mr. Burns is a founding director of the International Group of Accounting Firms, one of the world's largest accounting organizations, and also serves as a director of a number of private corporations and registered charities.


Graham Farquharson P.Eng, MBA
Position: Director, Chairman of Compensation and Human Resources Committee
Graham Farquharson was born in Timmins, Ontario, and is a graduate in mining engineering from the University of Alberta, with an MBA from Queen's University. He has worked extensively in operations across Canada as well as internationally while responsible for the overall direction and management of Strathcona Mineral Services since its inception in 1974. Mr. Farquharson coordinated the technical audit of the Busang project of Bre-X Minerals in Indonesia and subsequent investigation work after Strathcona reported the possible fraud implications. Strathcona also pioneered mining development in the Canadian Arctic with the construction and operation of the Nanisivik zinc mine on northern Baffin Island. Mr. Farquharson has also served as a director for a number of mining companies and not-for-profit organizations, and is currently a director of Franco-Nevada Corporation, Physicians Services Incorporated Foundation, and is Chairman of the Canadian Mineral Industry Education Foundation.
Paul C. Jones P.Eng
Position: Director, Chairman of Environmental, Health and Safety and Technical Committee
Paul Jones is currently a principal of Sovereign Management Group Ltd., he a director of Glass Earth Limited and until recently a director of New Horizon Uranium Corporation (both privately held companies engaged in mineral activities in the America's and New Zealand). Mr. Jones is a Legion of Honor member of the Society of Mining Engineers where he has been a member since 1958, and is a member and officer of the Mining and Metallurgical Society of America. In February 2004, Mr. Jones received the William Lawrence Saunders Gold Metal from the American Institute of Mining, Metallurgical and Petroleum Engineers in recognition of his service to the public and the minerals industry. In 2005, he received the President's Citation for his activities as Chair of the Governmental Affairs Committee of MMSA. Mr. Jones is a director of the National Mining Hall of Fame and Museum and a member of the Society of Economic Geologists and several other state, regional and national mining organizations where he has served as an officer and director.
Mr. Jones holds a Bachelor of Mining Engineering Degree from the University of Minnesota, is a Registered Professional Engineer, and has served in numerous engineering, operations, senior management and consulting positions in public and private companies active in the Americas, Africa and Asia during his long career in the mining industry.


Bernard Kraft, C.A. I.F.A., C.B.V., A.S.A., C.F.E.
Position: Director
Bernard Kraft is a consultant to Kraft LLP Chartered Accountants, involved in the areas of business consulting and valuation. In 1992, Mr. Kraft co-founded KraftYabrov Valuations Inc., a company specializing in the areas of litigation support, mergers and acquisitions, business valuations, corporate finance and managing consulting.
Mr. Kraft is currently a director and member of the Audit Committee with Agnico-Eagle Mines Limited, a publicly listed gold mining company, and Sterling Centrecorp Inc., a company involved in real estate. Mr. Kraft is a member of the Canadian Institute of Chartered Business Valuators, the Association of Certified Fraud Examiners and the American Society of Appraisers.


Jacques Perron ing, P.Eng
Position: Director, President and CEO
Jacques Perron obtained his B.Sc. in mining engineering at l'École Polytechnique in 1984 and held various engineering, operations and management level positions with Noranda Inc., J.S. Redpath Ltd, Cambior Inc, and Cameco Corporation. In 2004, he returned to Cambior Inc. as Vice President, Canada and was in charge of the Canadian assets including three gold mines and one niobium operation. Upon the acquisition of Cambior Inc., by Iamgold Corporation, Mr. Perron then assumed the role of Vice President of Operations America's. Mr. Perron is also a director of Hunt Mining Corp since May 2010.


Warren S.R. Seyffert, Q.C.
Position: Director, Chairman of Governance & Nominating Committee
Warren Seyffert was the former Chair of the Partnership, Managing Partner, Lang Michener and served as counsel to Lang Michener LLP from 2002 -- 2007. Mr. Seyffert was also a former lecturer "Law of Corporate Management", at Osgoode Hall Law School. He is the lead director of Teck Resources Limited, and is a director of various public and private corporations including Allstate Insurance Company of Canada, Pembridge Insurance Company, and The Kensington Health Centre. Mr. Seyffert is also an Honourary Trustee of the Royal Ontario Museum.
Mr. Seyffert holds a Bachelor of Law from the University of Toronto Law School, and a masters of Law from Osgoode Hall, York University.
Hauptaktionäre
Kontakt
CORPORATE HEAD OFFICE
20 Adelaide Street East, Suite 801
Toronto ON M5C 2T6
Canada
Tel: 416-815-9855; Fax: 416-815-9437

Investor Relations
Suzette N Ramcharan
Tel: 416-815-9855 Ext. 234
Toll Free: 1-800-463-5139
Email: [email protected]
Unternehmensinformationen
Anleger, die in St Andrew Goldfields interessiert sind, haben auch angesehen: